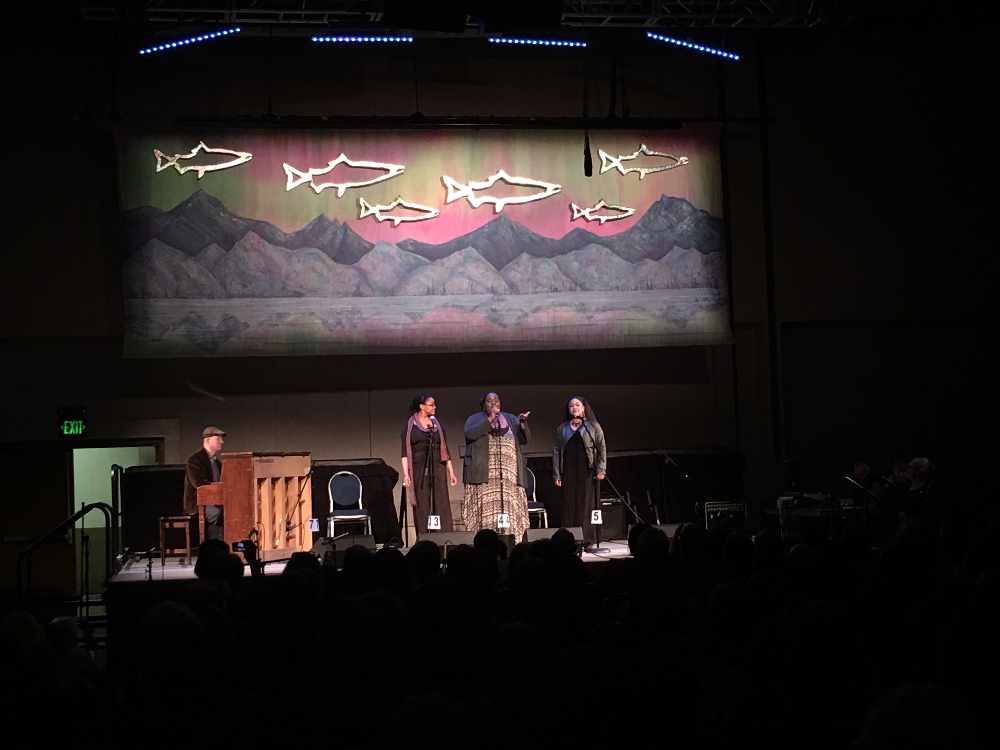 Jocelyn Miles, Salissa Thole, Ericka Lee, Luke Weld performing R&B with a little extra Juneau flair in the lyrics on the Main Stage. Photo by Alex McC.
Juneau, AK (KINY) - Juneau's most musical week has kicked off for the 44th year, filling the air with music all week long.
The Alaska Folk Festival is in full swing and already there has been a plethora of music on almost any corner in the downtown area. We stopped into Centennial Hall to get a taste of the main stage sound. Here's a little bit of Dead Reckoning's bluesy vibes. . .
We also caught up with Erin Heist, Vice President of the Alaska Folk Festival Board, and asked her what it's like to put the festival together.
"It is the 44th year and honestly it's kind of a magical machine. The community really supports the festival; we have volunteers who show up every single year and help us out. The board puts in a bunch of effort to kind of get things organized, but once the festival starts it just keeps running."
We asked Heist about the significance of making a space for people to enjoy and play music.
"For me, the Folk Festival is this really great start to the spring. Everybody is sort of ready to get outside and have lots of energy, but the festival is built around the idea that everyone should play music and everyone should be given a space to play music. So anybody can play the festival and you have people who are first-time performers performing in front of an audience of 1,500 people and being broadcast live and that's pretty amazing. I just think it's the best that we have here in Juneau, I love it."
There will also be several events going on throughout the downtown area; Heist talked about them in brief.
"As part of the festival, which is all free, Monday through Sunday night we have evening concerts here in Centennial Hall. Thursday, Friday, and Saturday we have dances at the JACC and then all day on Saturday and Sunday we've got free workshops that happen here at Centennial Hall. We have a children's concert Thursday, Friday, and Saturday. We have free childcare for people who are attending the festival."
"Then of course there are jam spots all over town. Tons of businesses open their doors to have live music. Most of the bars downtown book bands every single night. Folk Festival kind of takes over the whole downtown area."
More information can be found on the Alaska Folk Festival website.
While there are lots of acts braving the main stage, there is truly something special going on behind the scenes. There are all sorts of jam spots marked on official maps and it's those circles that really hold the soul of a Folk Festival. Old friends meet up over the years. New ones are made through small get-togethers. Spring energy fuels square dances. We sat with Stephen Nordine from Port Townsend, Washington and Ryan Laursen from Auburn, California who were playing some tunes in a corner on Monday night. Local Bob Doran also enjoyed the company and convinced Laursen to learn a new tune.