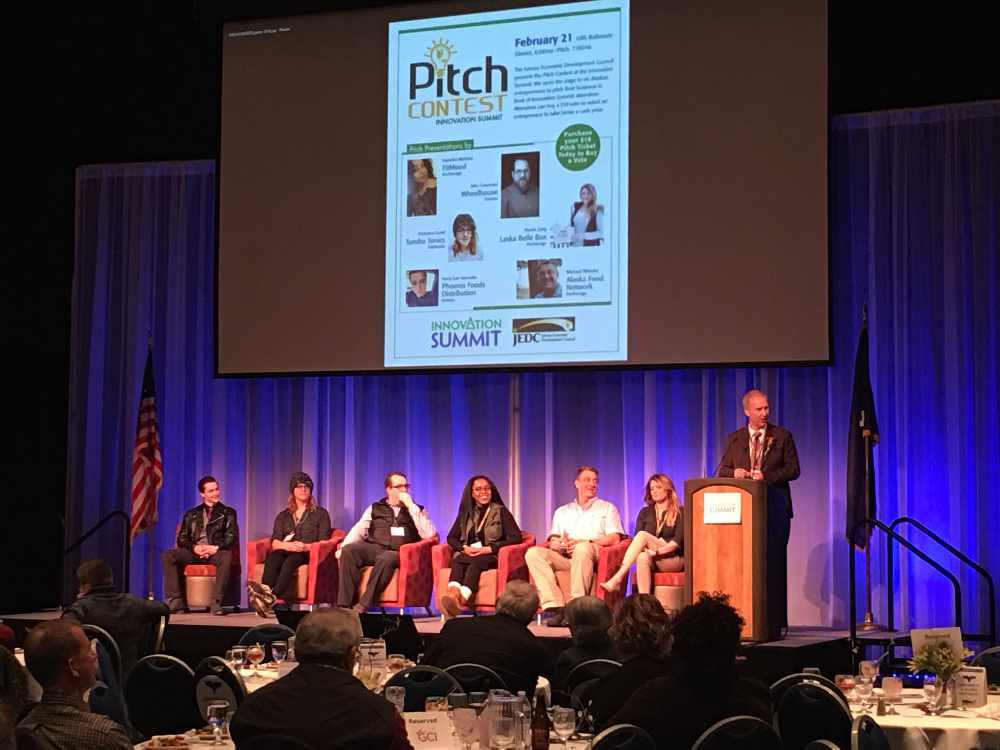 Juneau, AK (KINY) - The Innovation Summit ended it's first evening with a bang with the much anticipated Pitch Contest.
The contest gave entrepreneurs the floor to speak to those at the event, which did include representatives in other companies and a few investors.
Dana Herndon of the Juneau Economic and Development Council talked about how the Innovation Summit is a place to learn about business and the value for those attending.
"We are just providing a platform for people to practice what they're working on and what their business idea is, so it's just a platform for them to communicate what their ideas are and to think about the structure of this business that they're pursuing."
After each business gave their five minute pitch, the people voted on the winners.
Laska Belle Box, a subscription box of Alaska goods geared towards women won the bronze. Wheelhouse, an app that connects those working in ocean-based industries to training and other resources won the silver medal. Lastly, Alaska Food Network, which delivers a box of fresh fruit and vegetables won the gold.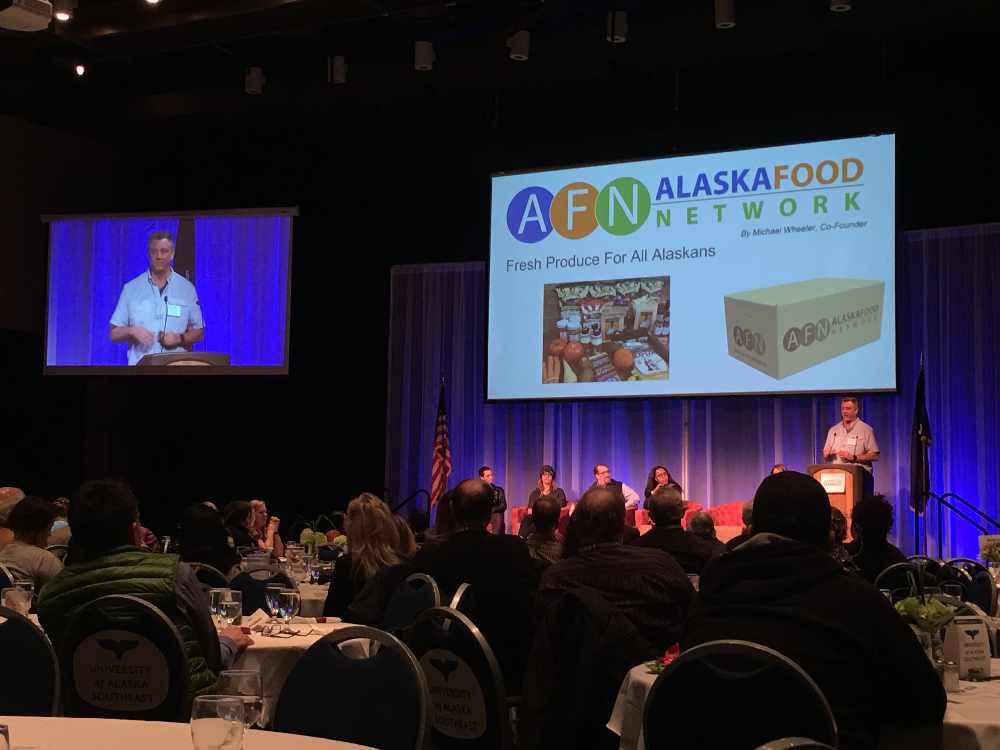 Michael Wheeler, one of the founders and owner of Alaska Food Network and the winner of the Pitch Contest, was asked on how he was feeling after winning.
"I'm excited and I really think that the funds are going to help out the company. I'm looking forward to getting some services from a grant writer; this is going to be able to facilitate that, so we can grow the company and provide more of a healthy solution throughout all of Alaska."
We asked Wheeler if he had any tips for those looking to get into business or take things to the next level.
"I think the biggest thing when it comes to business is that is really important that as an individual you're ready to take on those stresses and struggles. With business, it's important to be able to truly find happiness in yourself, as well as just be ready to take it on. It's very hard and the other thing to take into serious consideration is are you about ready to turn a hobby into a job or are you looking to build a business that can grow on its own and is that something you can work on versus in?"
Brian Holst, who is also part of the JEDC, gave an encouraging thought after the contest.
"Businesses are put together by regular folk. Hard-working folk that have an idea and passion. Anyone in this room, if they put their mind to it, could create their own business."
After each pitch, there was some time set aside for audience questions with a few that pulled no punches. This created an almost instant form of criticism and simulated an environment that could occur in a business type environment. We asked Wheeler what the advantage of events like the Innovation Summit has.
"Small businesses are the backbone of America."
"I do business consulting as well and I'm so familiar with seeing people that are making less than $2 an hour because they're working 20 hours a day, 7 days a week, and they're doing it to make burritos that people love, but at the same turn nobody really realizes that there's an individual back behind that is just working themselves to death. It's key that we can have more respect for those people and then we can help those people get more education and learn new processes and I think events like this really help drive that home because we are entrepreneurs and business owners that come to these and we get new ideas."
"Every time we get new ideas, we think a little bit more outside the box. At the end of the day I think we all walk away with at least one good thing."
Lastly, Wheeler mentioned one of his core business goals. He wants to make Alaska healthier through food.
"One of the reasons we really did the Alaska Food Network was to distress a healthy lifestyle through food. Food is so important. Let thy food be thy medicine and they medicine be thy food and we've kind of really stepped away from that and we're wanting to hopefully get that message back out there."
Harry Vannatta of Phoenix Foods Distribution also talked about the advantage of attending an event like the Innovation Summit.
"When you get a big melting pot together like this and a good density, we have really good, innovative ideas that come out of that."
Other participants in the Pitch Contest include: Fit Mood, Tundra Tonics, and Phoenix Foods Distribution.
More information about the event can be found at the Innovation Summit website.