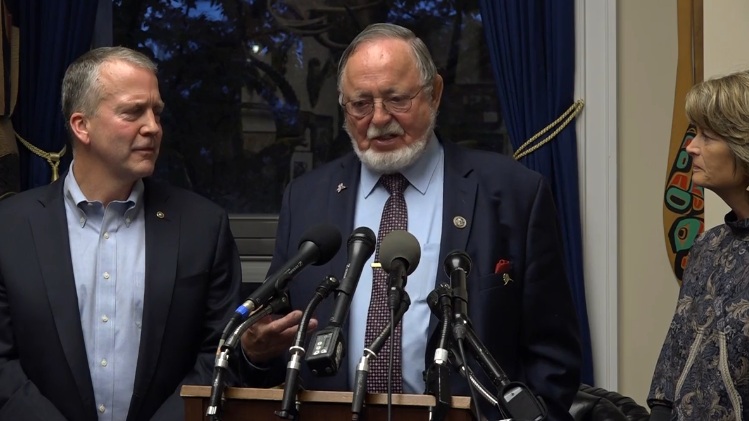 Sen. Dan Sullivan, Rep. Don Young Sen. Lisa Murkowski.
Washington, DC (KINY) - The Alaska Congressional Delegation is applauding funding awarded by the U.S. Department of Health and Human Services to health care providers across Alaska.
This funding became available through legislation passed earlier this month, providing $8.3 billion in emergency funding to combat the spread of COVID-19.

"The COVID-19 epidemic represents uncharted territory for our country. Our doctors, nurses, and other caregivers are on the front lines, and they should be provided the support they need to continue keeping Alaskans safe," said the Congressional Delegation. "The health and safety of Alaskans is paramount, and these HHS grants will go a long way toward ensuring that everyone in our state – from our urban areas to rural villages – has access to the health care necessary to turn the tide in the fight against this urgent public health crisis. Our state's health care providers continue to display remarkable bravery and heroism amid much uncertainty, and our state is deeply grateful. There is much work ahead, and the situation surrounding the COVID-19 outbreak changes from day-to-day. Alaskans are resilient, and if we continue working together, we will get through this crisis stronger than ever before."
Grant Information
• Yukon-Kuskokwim Health Corporation, $59,763
• Girdwood Health Clinic Inc., $51,271
• Interior Community Health Center Inc, $55,527
• Native Village Of Eyak, $52,022
• Anchorage Neighborhood Health Center, Inc., $62,899
• Bristol Bay Area Health Corporation, $55,578
• Peninsula Community Health Services of Alaska, Inc., $54,884
• Norton Sound Health Corporation, $59,378
• Aleutian Pribilof Islands Association, Inc., $50,667
• Dena' Nena' Henash, $55,438
• Council Of Athabascan Tribal Governments, $51,448
• Maniilaq Association, $55,225
• Skagway, Municipality of, $52,190
• Mat Su Health Services Inc., $53,439
• Southeast Alaska Regional Health Consortium, $61,780
• Southcentral Foundation, $53,674
• Cross Road Health Ministries, Inc., $52,824
• Kodiak Area Native Association, $55,681
• Seldovia Village Tribe, $54,116
• Eastern Aleutian Tribes, Inc., $54,158
• City Of Seward, $52,039
• Iliuliuk Family And Health Services, Inc., $55,980
• Yakutat Tlingit Tribe, $51,022
• Bethel Family Clinic, $53,914
• Kodiak Island Health Care Foundation, $53,493
• Sunshine Community Health Center Incorporated, $53,607