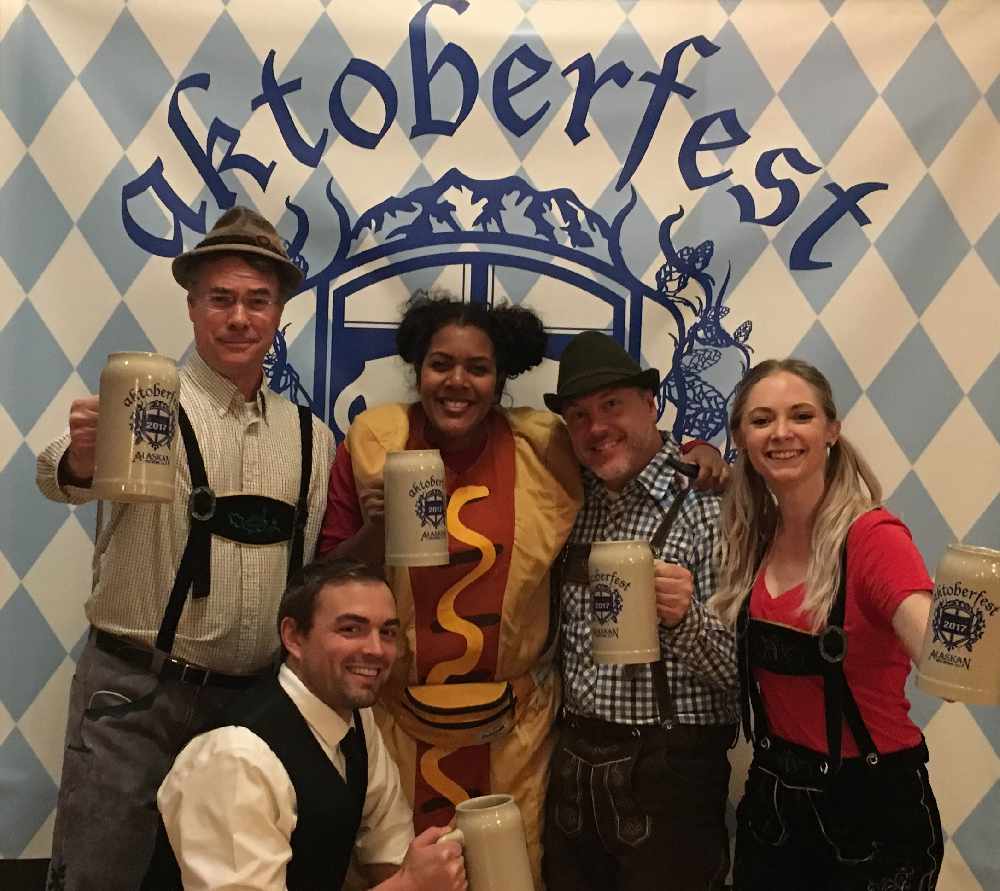 A photo from the 2017 Aktoberfest courtesy of Alaskan Brewing Company.
Juneau, AK (KINY) - The Alaskan Brewing Company will be holding their annual Aktoberfest celebration at the JACC on Saturday.
As a culmination to the homebrew competition put on by the Alaskan Brewing Company, Aktoberfest will be an event that celebrates the winner of that competition, while also raising money for a good cause. The event will be happening at the JACC starting at 7 pm on Saturday, October 13th will play on the traditional German Octoberfest celebrations.
Andy Kline and Matt Chambers with the Alaska Brewing Company discussed the event with us. Kline first described what the event is all about.
"Aktoberfest is two things in one. It's a fun event that combines a part with the Alaska Homebrew Competition. We've been doing a homebrew competition for a number of years and it used to be called the Autumn Pour."
There were entries to the homebrew competition from all over the US with many coming from other Alaskan cities and with several being submitted from Juneau brewers. Each year, the Brewing Company chooses a non-profit to benefit.
"Last year, we really wanted to find another avenue to raise money for our local non-profits. Every year we choose a non-profit and give all of our tips as donations so this is sort of another avenue to raise money for them, so we're continuing that tradition this year. Our non-profit this year is ANDVSA, which is the Alaska Network on Domestic Violence and Sexual Assault."
Chambers summarized what to expect at the event.
"We just want people to come out and have a good time. Dress up in your lederhosen or any sort of general Octoberfest costume. One year we had a hotdog; that was a hit. We've got a costume contest, a strong stein competition, 32-ounce steins for those that get a ticket."
"We want people to have fun, but also really celebrate the homebrew competition winners. That's a big driving force of this party, while also bringing awareness to ANDVSA and raise some money for them. It's all just a good time."
There will also be a few Juneau food trucks and a new flavor from the Alaskan Brewing Company.
Chambers and Kline revealed that tickets will be limited.
"Tickets are on sale at all Alaskan Brewing retail locations and tickets on sale at the JACC. So $20 gets you entry and the full stein."
"Get the tickets now though," added Kline, "because last year it did sell out. We'll definitely sell out of the tickets with the stein associated with them."
Find the full interview ON DEMAND with more information available here.