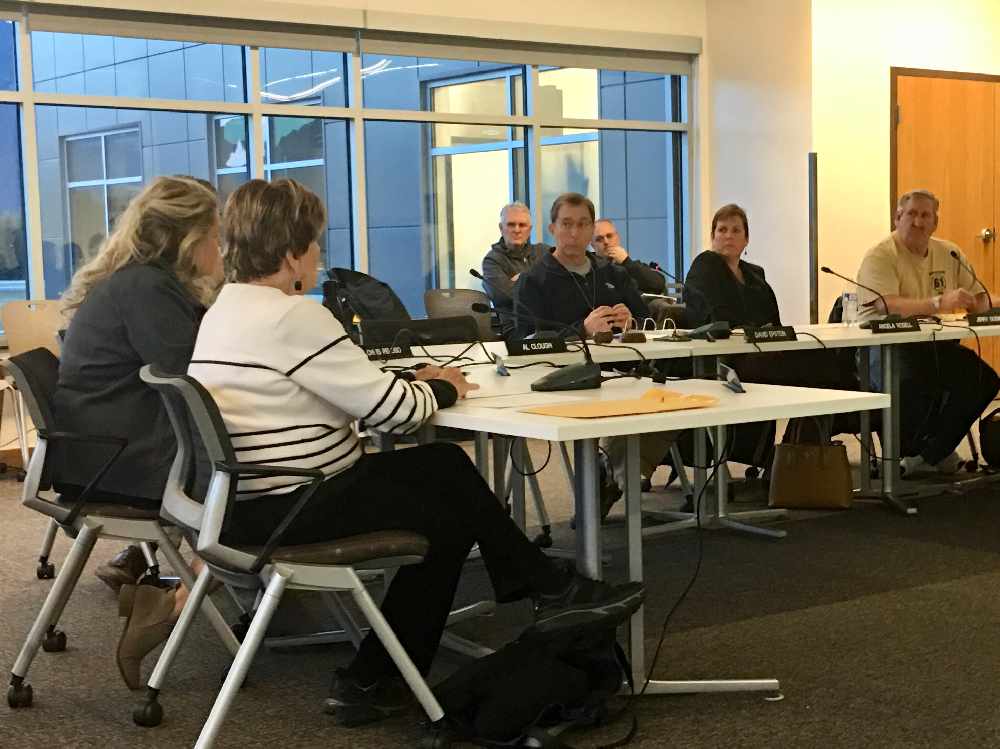 Juneau, AK (KINY) - The latest meeting at the Airport Board brought several areas worth pursuing, a reconsideration of funding for a need, and a fairly large victory on getting projects completed.
One of the main topics of discussion was replacing an exit lane which was estimated to cost about $360,000 with a proposal of the money coming out of the terminal reconstruction project local funds. Board Member Angela Rodell objected to the motion outright, citing the tight nature of the terminal project budget. There was also an attempt to amend the motion for only the specific amount estimated.
They will now seek a different funding source to make that replacement.
The Airport did recently have their Master Plan adopted, part of which includes the North Terminal project. Airport Manager Patty Wahto explained that they will be further working with tenants and stakeholders to work out the logistics of construction.
"We're having a lot of meetings with them kind of fine-tuning the areas that they actually need and what will work for them. Then we'll start moving into, not only the budgeting on that, but also getting a phasing plan together. That's what everyone has been questioning, even in our meeting tonight, how are we going to get our tenants to continue working and accommodate them? That's going to be another big part of this."
There was also information brought forward about thieves rummaging through vehicles impounded by JPD with some of those vehicles being kept on Airport property. Wahto explained.
"We are the owner of the property and so we're leasing it to another city entity. We're going to go to them and discuss how we can collectively make this work to deter any more break-ins of this area and find out what else we can do."
The current thought is to extend additional fencing out to the street to further improve visibility. However, the Airport will be meeting with JPD to discuss solutions. There has been lots of fence maintenance required due to people cutting the fencing, which has cost the airport. There was a simple camera set up for security, but it was stolen at one point.
JPD will be having an impounded vehicle auction on November 10th.
One point of major success was the awarding of almost 10 million in FAA grant money that will be used for the snow removal equipment facility, as well as a station that can handle sand, chemicals, and fueling. The Juneau International Airport was 1 of 37 airports to receive this appropriation.
Wahto further explained.
"It was one of the projects on our Capital Improvements Project list with it being out about 3 years. Earlier this year, as was passed, a special supplemental DOT appropriation grant for airports, so not just what was planned for CIP projects, it was to allow other projects to get moving. They put together a 1.2 billion dollar appropriation act that would allow some more projects to move forward."
She says that this money will help them make more progress in other areas.
"By getting this it moves the project up. It was funds that actually frees up other things within our whole CIP Project. This includes things like the terminal; our funding plan was contingent upon moving this project forward. This is big."
There was also a recent increase in fines for those breaking laws regarding the front of the airport terminal. For the most part, the Airport has seen improvement of that traffic flow.
"Actually, we have seen some improvement and I think that if nothing else the whole discussion about the fee increases brought up the educational part to the community. I think that helped a lot. Certainly, the fine and letting people know what it was has led to discouraging people from trying to park or do anything in front of the terminal."
Alaska Seaplanes recently held a season of regular flights to Whitehorse, Canada. Wahto also shared her thoughts on that offering with hopes to see it continue.
"Years ago, we had another air taxi that was doing trips between here and Whitehorse and it was kind of just on a charter basis, maybe once or twice a year. It was revived by Alaska Seaplanes this year to go ahead and get Canadian authority to fly scheduled flights. This was their first season doing it. I didn't look to see what they're numbers were, but I think they're gonna give it another try next year."
"It was great! They had some good flights and it was good to get that back and forth started again between here and Whitehorse."