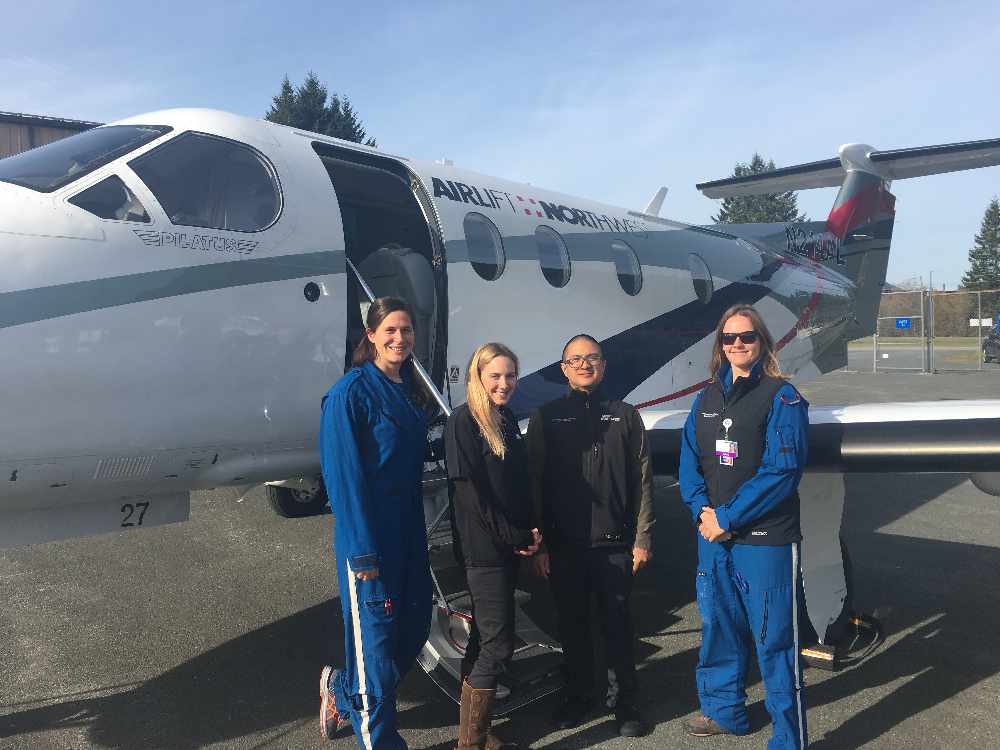 Juneau, AK (KINY) - We recently interviewed and witnessed part of the ongoing training of those who work for Airlift Northwest, an air ambulance service based in Juneau.
In Southeast Alaska, chances are that you or someone you know has been medevaced at least once. Due to the distance between many of those communities and a hospital that meets the needs of the patient, the nearest hospital could be hundreds of miles away, which means much of the medical transport is done by air. We chatted with some of the folks who work at Airlift Northwest, an air ambulance service affiliated with the University of Washington.
Typically, nurse teams of two will travel with the patient and one close relative, where they give intensive care to ensure that the patient can be transported to the receiving hospital. Usually, one nurse specializes in adult critical care and the other focuses on critical care for children. Each of the nurses sport at least five years of experience has various credentials and can be found wearing many hats during their operations. Nurses also go through 120 hours of ongoing education each year.
Dr. Richard Utarnachitt, the Medical Director of Airlift Northwest described how the company came to be. He explained that Dr. Michael Copass had trouble getting service after a deadly house fire in Sitka where three children perished.
"At the time, there was no organized medical transport service in the region. Dr. Copass struggled for 24-hours to get a medevac service to come up from the Lower 48 to fly these patients down. I believe that one patient died on the scene, another died at a local hospital, and a third died while en route."
"After that Dr. Copass vowed that this would never happen again and that a doctor would not struggle to get a patient out of Southeast Alaska that needs help."
Utarnachitt said that despite the challenges, there is a lot they can do to help people.
"It's a little different environment when you take the care that someone has in an ICU or an emergency department and then put that into an aircraft. Limited space, resources, sometimes going to smaller facilities or picking up patients in the field is very different. Having that level of care is challenging, but we train people up for the task."
These medical professionals have some of the best skills in the field, due to the constant training and continuous work with the University of Washington.
"We bring the most cutting-edge skills, up to date training, the most evidence-based practices, we make sure our staff are able to understand the complex path of physiology involved in the care of these patients and any new critical skills that they need to accomplish the mission."
Anna Condino, an EMS fellow with the University and Harborview Medical Center was visiting the Juneau base for training. She had a lot of praise for the service.
"It's been really eye-opening to be up here and see the kind of conditions and the types of patients that they transport. They're with these folks for hours and truly doing very high-level ICU care and aiming to pick someone up in say a small clinic with limited resources and take those folks to a big center in Anchorage or Seattle. Seeing what Airlift Northwest are able to do in the air with the equipment and training that they have is really impressive."
Airlift Northwest recently announced the use of blood products that are primarily used for trauma patients.
"We recently had blood products added to the armamentarium of medications that we're able to give. I think we're the only group in Southeast doing that now. There's research coming out that with trauma patients these products can make a tremendous difference in their care."
"We're really happy and proud to provide that here. It took a lot of logistical effort to get those products up here and how to be able to give them, training people up, those products are getting used and I think they're really making a difference."
Condino spoke highly of the ability of the staff to work through limitations.
"They have to be not only a nurse but a respiratory therapist, a doctor, a social worker, an operations expert in finding everything and knowing to get from the airport to the clinic and back. It's challenging."
"When you're in a hospital you've got all of the people, all of the stuff, and you can focus on your one task, but they really don't have that luxury here. In spite of all that, they do an amazing job."
A full interview is available ON DEMAND. More information can be found on their website.