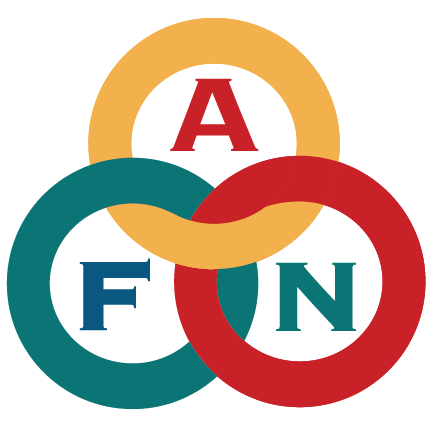 Alaska Federation of Natives logo
Anchorage, Alaska (KINY) - Every year, AFN honors those who have made outstanding contributions to their families and the Native community with awards.
The Health award goes to an Alaska Native who shows strong commitment, competence, and sensitive care in the health field, and whose accomplishments approve health care for Alaska Natives.
Elizabeth Aarons received the Health award.
Aarons is a registered nurse at Alaska Native Medical Center (ANMC) where she works in the Critical Care unit, COVID-19 Testing and Results, and the Oncology and Infusion Center.
Aarons is Iñupiaq from Unalakleet and says her interest in medicine comes from a long line of Indigenous healers in her family.
The Woman of Courage award originated from Hannah Paul Solomon, who was an American community leader and artist.
Paul Solomon died in 2011 and was introduced to the Alaska Women's Hall of Fame in 2012.
June (Simeonoff) Pardue was named the Woman of Courage.
Pardue, this year's awardee, is an Alutiiq and Iñupiaq artist, educator, and culture bearer who teaches at the University of Alaska-Kenai Peninsula College, University of Alaska-Anchorage, and Alaska Pacific University.
She is a cultural developer and instructor for the Matanuska Susitna Borough School District and serves as an Elder Culture Bearer, instructor, and storyteller for the Knik Tribal Council in Palmer.
Pardue is also an accomplished Alutiiq grass weaver, fish skin tanner, fish leather and sea mammal skin jeweler, and beader.
The Katie John Hunter-Fisher award goes to an Alaska Native who demonstrates the spirit of successful subsistence hunting, trapping, and sharing.
The Katie John Hunter-Fisher award goes to Roy Ashenfelter of White Mountain.
Ashenfelter is Iñupiaq and grew up subsistence hunting and fishing.
He serves as an advocate for the fish, caribou, and lands in his work and the boards he serves on.
Currently working at Kawerak Inc, he travels within the region and assisted those with Native allotments.
The Roger Yang Youth Leadership award is in honor of the late Roger Lang, former AFN president.
Lang encouraged young people to challenge themselves in leadership roles.
Golga Oscar was awarded the Roger Lang Youth Leadership.
Oscar is a Yup'ik artist, born and raised in Kasigluk.
Oscar has led various projects, such as skin sewing, basket weaving, and quillwork, beadwork, walrus ivory carving, exploring Yup'ik Native jewelry.
As a fluent Yup'ik speaker, Oscar is dedicated to keeping his culture and traditions relevant by teaching the next generation about their language and art.
The Small Business award is awarded to someone who has shown success in business and commitment to the community.
Michael Fredericks, a small business owner of SALT, was awarded Small Business.
SALT is an Alaska Native women-owned interior design and strategic engagement firm in Anchorage.
Fredericks is of Yup'ik descent and was born and raised in Anchorage.
Gin'tith (Richard Frank) Military Service award goes to an Alaska Native who has shown a strong will to serve in the U.S Armed Forces in defense of the United States of America.
Nathaniel (Saaduuts) Mitchell received the award of Military Service.
Mitchell is a Haida and Tlingit veteran, who served 24 years in the Navy.
Mitchell is Yahkw 'Láanaas (Raven/Shark) clan and joined the Navy in 1997.
Glenn Godfrey Law Enforcement award was named for the late Glenn Godfrey, Colonel, and Director of Alaska State Troopers and Alaska Commissioner of Public Safety.
The Glenn Godfrey Law Enforcement award went to Lieutenant Brian Wassman.
Iñupiaq with family in Nome and the Bering Straits Region, Wassman became a state trooper after graduating from the University of Alaska Fairbanks, fulfilling a lifelong goal of his.
After serving the Alaska State Troopers for 29 years, he recently retired and has worked in several rural communities.
This year, Wassman finished his career as the Deputy Commander of the Alaska Bureau of Investigation in Anchorage, where he was passionate about the safety of victims of domestic violence.
The Eileen Panigeo MacLean Education award is named after the late state Legislator, and elementary and bilingual teacher, Eileen Panigeo.
This award recognizes an Alaska Native who is committed to creating competence and sensitivity in the educational field, and whose accomplishments have improved educational opportunities for Alaska Natives.
Mike Webber received the Eileen Panigeo MacLean Education award.
Webber is an Alutiiq and Tlingit/Eyak Northwest Coast master carver from Cordova.
A fisherman from six years old, Webber endured a life-changing accident on his family-run seine boat that led him to discover carving.
He has now been carving for the last two decades, earning the status of master carver and world-renowned Alaska Native artist.
His artwork can be found in museums from Alaska to Washington D.C, and as far south as the Grand Cayman Islands.