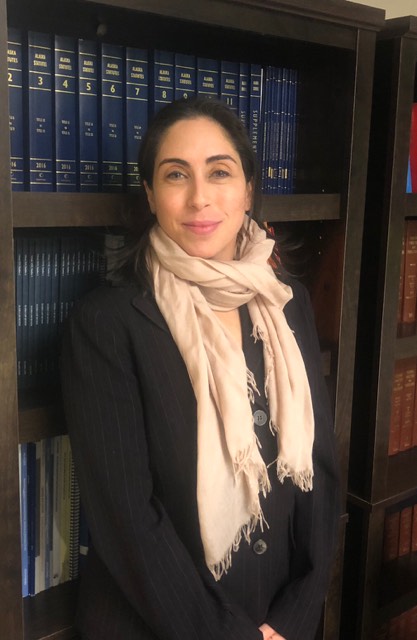 Former Alaska Assistant Attorney General Elizabeth Bakalar.
Juneau, Alaska (KINY) - A spokesperson for the ACLU is saying the State of Alaska has agreed to a deadline of next week to see a filing in a lawsuit against the state.
According to Casey Reynolds, a spokesperson with ACLU Alaska, the state has agreed to Tuesday deadline with the non-profit group after it filed a motion seeking a default judgment against Gov. Mike Dunleavy and chief of staff Tuckerman Babcock in a lawsuit brought by three former state employees.
The suit was brought after what the three called "constitutional violations" related to resignation requests issued by the administration.
Former assistant attorney general Elizabeth Bakalar is the plaintiff in one of the suits, with a second suit filed jointly by former Alaska Psychiatric Institute doctors Anthony Blanford and John Bellville. Both cases have been removed to federal court.
According to the ACLU's filing, the Department of Law and outside counsel for the governor and Babcock claimed they were not properly served.
Alaska Attorney General Kevin Clarkson weighed in on the motion and agreement Friday afternoon. He said it was the ACLU that agreed with the state, not the other way around.
"The motion for entry of default was completely frivolous, and in my opinion, amounted to conduct that could have been sanctioned by the court," Clarkson said. "Our counsel called ACLU and explained that we would be asking for sanctions. We have now come to a stipulated agreement and ACLU is withdrawing their motion. I'm glad we can avoid wasting everyone's time with such a ridiculous motion."
The ACLU reiterated in an interview with news of the North that the administration, while agreeing to file an answer next week, had not responded to the filing from months ago.
Before Gov. Dunleavy was sworn in, his transition team sent an email to every at-will state employee asking them to submit letters of resignation – and to reapply for their jobs if they chose to.
While incoming administrations often make leadership changes, Dunleavy's team said it had broadened the scope of employees asked to take the step.
Babcock said that given the change in leadership, it was appropriate to ask employees if they "want to work for the Dunleavy administration."
According to the complaint in the Bakalar case, the ACLU alleges that her First Amendment right to freedom of speech was violated because she was fired for her political beliefs – and maintaining a lifestyle and politically-tinged blog – while employed as an attorney in the Alaska Department of Law. In her case, the ACLU alleges Dunleavy and Babcock "terminated [her] employment because they were unhappy with the political views expressed in [her] blog postings."
An investigation by the Department of Law cleared Bakalar of any ethics violations in connection to the blogging. Bakalar also never took in any advertising dollars for her blog and operated it as what she calls a "hobby."
"Defendants Michael J. Dunleavy and Tuckerman Babcock violated Ms. Bakalar's rights to free speech when they fired her from her job as an assistant attorney general for the State of Alaska, a position which she held for over twelve years and for which she was repeatedly recognized for professional excellence," the complaint states.
Her lawsuit also alleges that another Department of Law attorney, Ruth Botstein, was fired for her political beliefs.