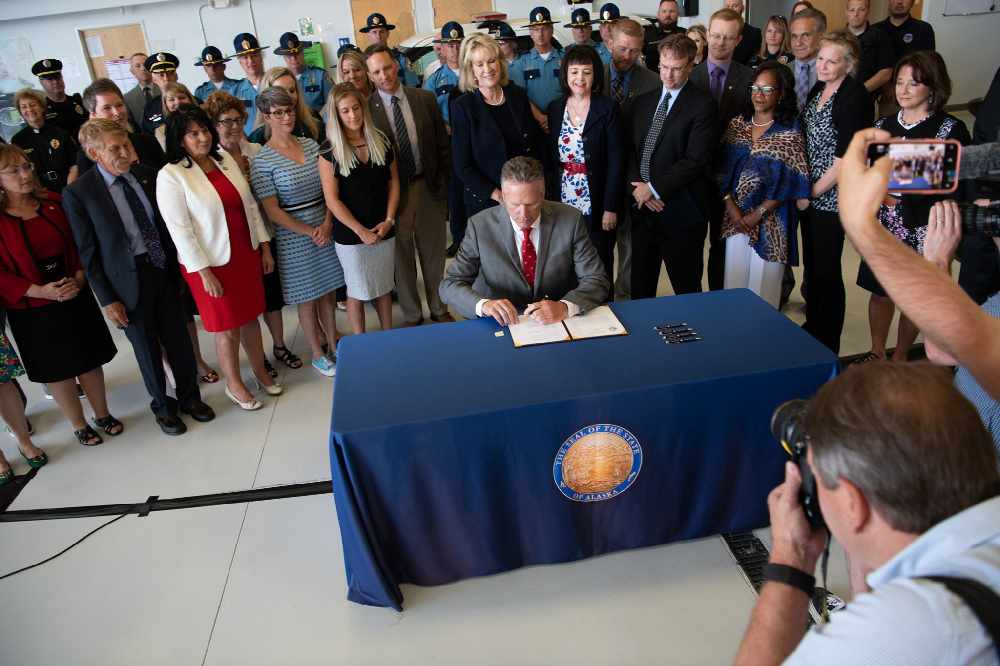 Governor Mike Dunleavy signs HB49 into law on Monday in Anchorage.
Anchorage, Alaska (KINY) - Gov. Mike Dunleavy, members of his administration and lawmakers gathered for the signing of House Bill 49 on Monday morning.
According to KTVA 11 in Anchorage, the tough-on-crime bill addresses significant remaining portions of Senate Bill 91, Alaska's controversial crime reform law.
Signing the bill into law represents an effort to make good on a campaign promise — undoing SB 91.
"For the last few years, it feels like we've had one hand tied behind our backs," said Deputy Attorney General John Skidmore. "In some cases, we've been able to get the right outcome but in other cases, you have to watch someone be released that is truly a danger to society but the law required their release. Or you watch someone who needs intervention for substance abuse and you have no ability to incentivize the right behavior. HB 49 will give us back the tools and discretion we need to do our jobs."
"Hopefully the term 'catch and release' will once again be used only when fishing and no longer a buzz word associated with criminal activity,"said Alaska Department of Corrections Commissioner Nancy Dahlstrom.