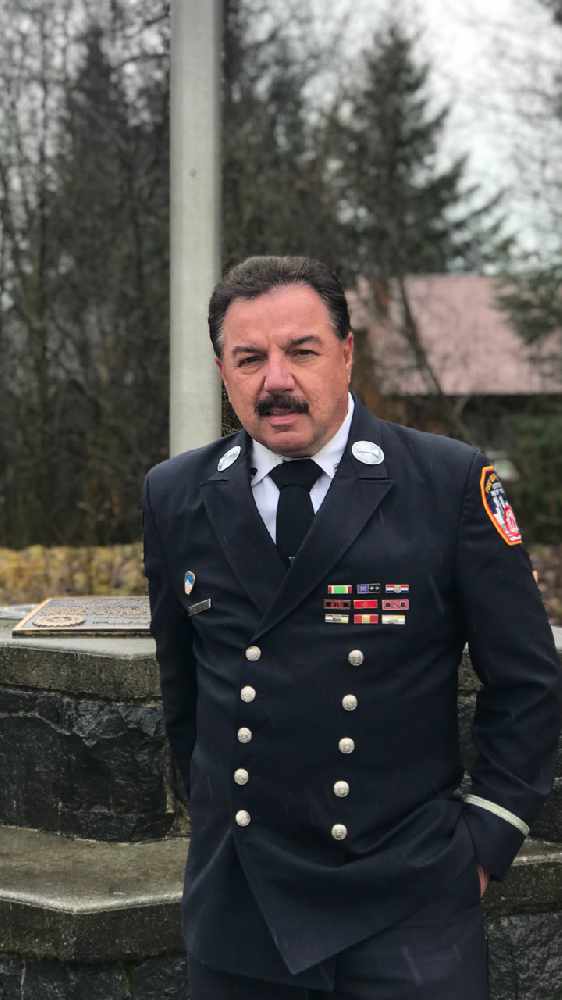 Photo by Brent Fischer.
Juneau, AK (KINY) - The third event in the annual Pillars of America series will be held on Wednesday in Centennial Hall in Juneau. We caught up with Joe Torrillo over the phone during his travels to preview some of the elements of his story.
Torrillo was a Lieutenant for the New York City Fire Department for 25 years and was at ground zero during the 9/11 terrorist attacks.
We asked Torrillo what it is like to travel and present inspirational speeches on this topic.
"It's a lot of work, but I'm retired so I have the time. I was spending a lot of my time right after I was retired for disability, because of my injuries on 9/11 at Ground Zero, as a tour guide. Then people really wanted me to get involved with some corporate speaking and that involved doing a lot of charity, and a lot of other volunteer work like when people are looking for keynote speakers."
"I think my whole mission, honestly, was to keep the memory alive so that people would never ever forget the day of September 11th 2001, The day that changed my life and my whole world in ways that I could never imagine and rearranged the lives of everyone else in this country."
We asked Torrillo what he was doing in New York at the time.
"I was recuperating from a fire injury before 9/11; I was working in Fire Department headquarters, running their public education program. In that interim, I was asked to be a part of a project with Fisher Price Toys; they wanted to create an action figure, a part of their Rescue Hero line. That new action figure was going to be a New York City Firefighter called Billy Blazes."
For several months, Torrillo worked with Fisher Price on the design and some of the marketing.
"So they wanted to do this big press conference and introduce Billy Blaze to the world in New York City. They asked me, 'Where can we have a press conference?' and I said, 'Let's do it at the Fire Zone, a new children's learning center I designed in 2000.' We won an Emmy Award for it."
"They were excited and said, 'Okay we know where, but what about when?' This meeting had been held in July of 2001 and I said, 'Let's do it in October for Fire Prevention Month.'"
"They said that it was very appropriate, but they wanted to get the toy out a little sooner than that."
"Eventually, we came to the idea that 911 is the emergency phone number, why not release Billy Blazes on September 11th and have a 911 themed safety day?"
"The Fisher Price executives said, 'Wow, what a great and novel idea!'"
"So on September 11th, 2001 at 9 o'clock in the morning every newspaper reporter, every single television station was waiting for me at the Rockefeller Center at my learning center, to reveal this action figure."
On what should have been an exciting day for New York Firefighters, tragedy struck.
"On my way to the press conference, the first plane hit the tower and I diverted to the scene, because my original fire house is right across the street of the south tower. I ran into the firehouse and I took off my dress uniform and borrowed a set of uniforms from an officer that was off-duty."
"I ran out of the fire house and in order to get to the north tower I had to run past the south tower. As I was running passed the south tower, I heard the roar and looked up to the see the second jet right over my head."
When the planes hit, Joe suddenly understood three things that were happening.
A). We are under a terrorist attack
B). Everybody on the tops of those buildings were doomed to death. I knew they couldn't get down and that we would never get to them.
C). These buildings are going to collapse.
"Nobody listened to me. Nobody would believe me. Ultimately, I was caught in the collapse myself."
Torrillo said that he has a mission to achieve.
"Long before Donald Trump wanted to make our country great again, I had settled on a mission to make our country the Reunited States of America. One of the things I'll be doing is flying a huge American flag that I'm taking all around the country. I'm going to fly it in every state capitol of all fifty states in honor of every man and woman who ever served this country and in memory of all the victims of 9/11 and it pays homage to every man and woman who serve their community as first responders."
Hear the rest of Joe Torrillo's story on Wednesday during the last Pillars of America events of the season at Centennial Hall. Doors open at 11:15am with lunch served at 11:30am. Tickets can be purchased at $35 each at either Hearthside Books locations.
Find out more about Joe Torrillo on his official website. Additional articles from the previous Pillars of America events can also be found on our website for mountain climber amputee Todd Huston or Derek Clark the "Rapping Dad".