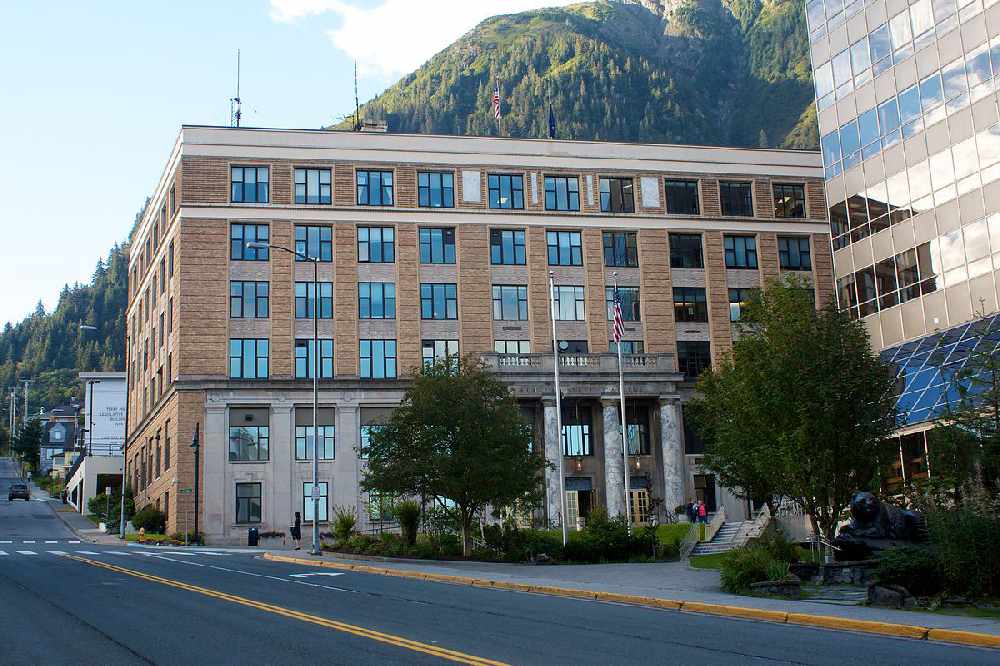 The Alaska State Capitol in downtown Juneau.
Juneau, Alaska (KINY) - The Alaska House of Representatives ran out the clock on their last regular session meeting of the 31st Legislature at midnight on Wednesday night.
The session, which began Wednesday morning, gaveled in at 11:28 p.m., a little more than half-an-hour short of the midnight deadline.
House Bill 104 was considered first. It deals with mortgage loan originator licensing. It passed on a 36-1 vote.
After a long delay, the special session proclamation from Gov. Mike Dunleavy was read.
"I call the Thirty-First Legislature of the State of Alaska into its first special session in the legislative chambers in Juneau, Alaska at 10 a.m. on May 16, 2019," the proclamation states.
Governor Dunleavy earlier in the day promised to call a special session on matters of criminal reform, both the capital/operating budgets and mental health budget, the PFD and education funding.
"It's painfully clear that after spending the last four months in session, lawmakers will not complete the people's business by midnight tonight," said Gov. Dunleavy. "Alaskans have every right to be disappointed by the legislature's inaction, but Alaskans are also expecting final action on legislation to address the most pressing issues facing our state like giving law enforcement and prosecutors the tools they need to stop criminals and reducing state spending. As a result, I am calling a 30-day special session to give lawmakers another opportunity to complete the critical tasks they were sent to accomplish by the People of Alaska."
Senate Minority Leader Tom Begich also spoke to the special session called by the governor.
"It's disappointing that we were unable to come to full agreement on the critical issues that we are obligated to fulfill," Sen. Begich said. "I do believe we have made significant progress toward ensuring the public's trust in our ability to keep Alaskans safe. Both bodies came together to craft a budget that meets our constitutional obligations and protects our economy. I am confident that we will complete that work before the Administration pink slips those that are doing the public's work.
"Finally, we must ensure that we address Alaskans' concern for a stable and consistent Permanent Fund Dividend - a subject missing from the Governor's special session proclamation. We must come together to move this state in the right direction - a direction that reflects the public's will and ensures opportunities for all."
The house will gavel in at 10 a.m. on Thursday.
Despite the Senate adjourning on Wednesday night until Jan. 21, 2020, they too will take part in the special session.