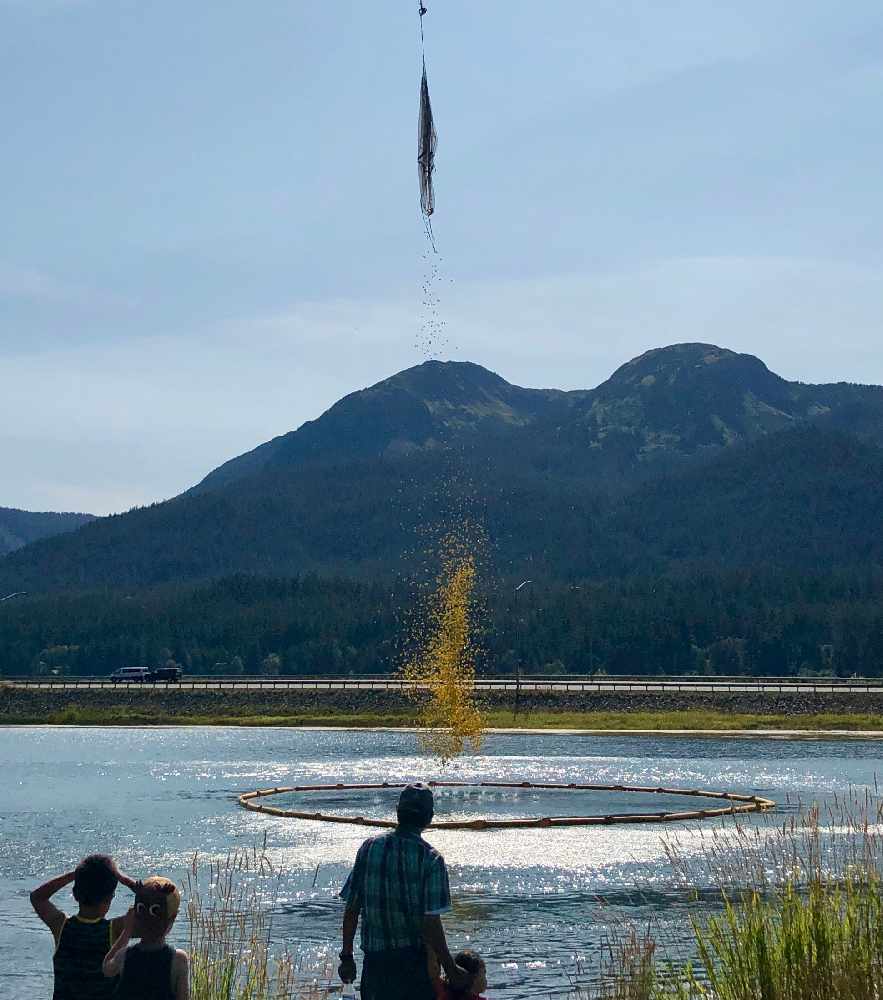 The ducks are released into Twin Lakes on Saturday during the 2019 Glacier Valley Rotary $10,000 Duck Derby.
Juneau, Alaska (KINY) - The Juneau Glacier Valley Rotary Club's biggest fundraiser of the year, one with over $10,000 in prizes, was held Saturday at Twin Lakes.
The $10,000 Duck Derby, which consisted of more than 6,500 ducks being dropped into Twin Lakes by Coastal Helicopters, is the biggest fundraiser for the GVR and features cash prizes. The money raised through the ducks will go towards Juneau's youth for things such as scholarships, community needs, and improvements to the Riverside Rotary Park.
Becky Rocereto was the grand prize winner this year, pocketing $5,000.
Sharon Burns is the past president of GVR and she said the event is important for many reasons.
"The $10,000 Duck Derby is Glacier Valley Rotary Club's biggest fundraiser of the year," Burns said. "The money that we raise through the derby goes back into the community, and things that the club is involved in is college scholarships, we give out something like 412,000 or S13,000 a year, and we support the Rotary exchange program, so every year we host an exchange student from overseas."
According to Burns, this year's exchange student will arrive this weekend.
"In fact, on Sunday night, we've got our exchange student arriving from Poland," Burns said. "His name is Max and he's been having an orientation in Anchorage. He's going to be hosted by three families here over the next twelve months. We send students overseas on the exchange program as well."
Pillars of America, as well as other annual events put on by GVR, are a mainstay of the group's mission.
"Aside from Pillars of America, Americorps is another big one that people are familiar with, it's that something that we're involved in and of course there is Riverside Rotary Park," Burns said. "We also build playgrounds and during the last few years we have supplied Housing First with equipment, so we're really involved in a lot of things in the community."
Duck Derby Winners
1 Becky Rocereto ($5,000)
2 Charles Truncale (2 Alaska Air tickets)
3 Tammi Whistler ($2,000)
4 Rhonda Degtoff ($500)
5 Bridgette Godkin ($500)
6 Demrie Isaak ($500)
7 Ron Flint ($500)
8 James Bauschor ($500)
9 Augustin Eshnaur ($250)
10 Shirley McCoy ($250)