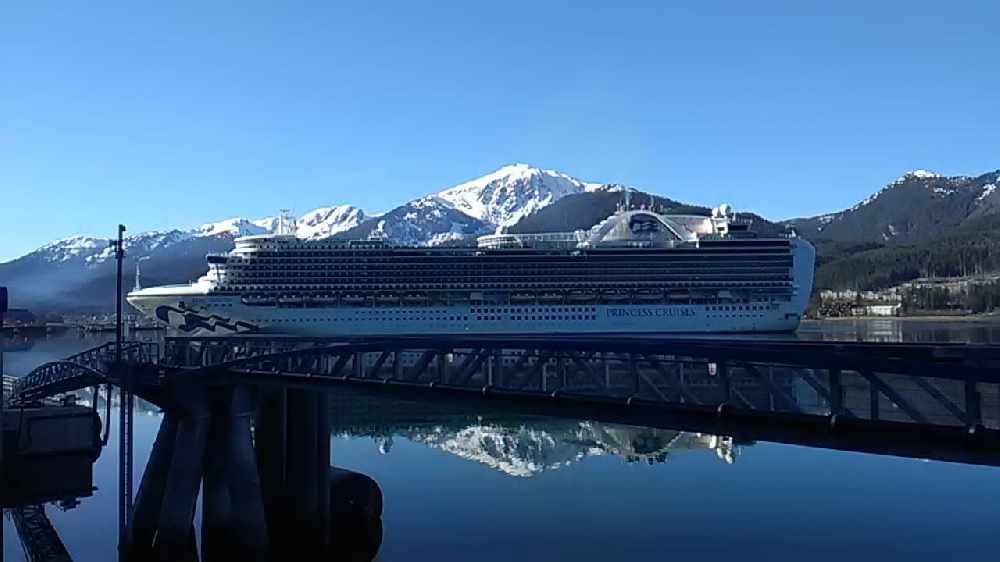 The Ruby Princess pulls into port on April 28. (Photo by Greg Knight)
Juneau, Alaska (KINY) - The start of the tourism season has finally arrived in the Capital City.
Sunday saw the first of many cruise ships coming to Juneau this year as the Ruby Princess docked just south of downtown -- with about 3,200 passengers aboard -- according to Princess Line's Kirby Day.
He said the weather and look of downtown could not have been better.
"It's a gorgeous day, with the sun out and no more hail or snow," Day said. "It was just right."
And Day said the economic boost from tourism dollars Juneau is as important this year as it ever has been.
"It's very important, especially in these days of budgetary cuts from the state, and lower oil prices," Day said. "A cruise passenger spends around $162 a day, so if you translate that to 1.3 million [visitors] that's a little over $200 million spent in town."
Day also estimates roughly 2,000 jobs will be directly connected to the season this year.
The 2019 Juneau Cruise Ship Schedule for all ships can be found here.