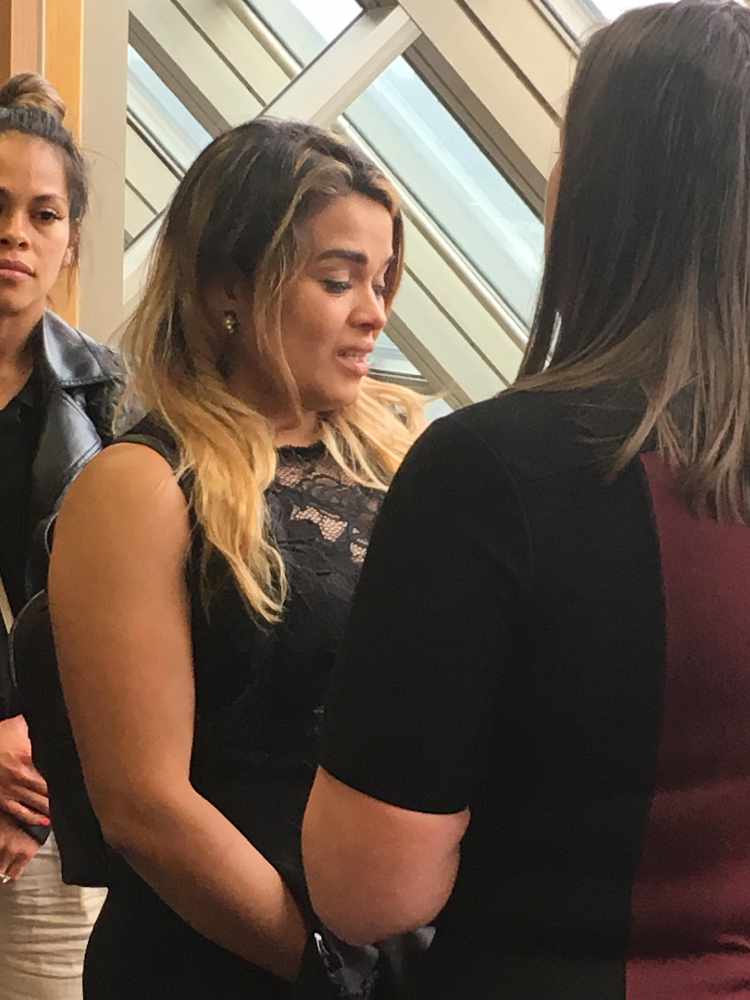 Maria Gonzalez chats with prosecutor Amy Paige after the sentence hearing
Juneau, Alaska (KINY) - Maria Gonzalez wanted to know why Mark De Simone killed her husband.
Gonzalez was the first person to testify at the sentence hearing. She said her life has changed since her husband Tony Rosales was murdered three years ago. She told the court that her life has been a struggle since that day. "I want to end this already. I don't know how many years he is going to get. I just want to move on with my life. I want this out of my head, just tell me why you did it. I really need this in my life. I want to live like normal people. He took away my dreams and my family that I worked so hard to have. I had to move, I couldn't find a good job, it wasn't fair what he did to my husband, he didn't give him a chance. Its been three years. Tell me why to give me that answer so I can explain it to my daughter (Ashley), she is still thinking that he (her dad) is still alive. Tell me you did it because you wanted to, give me an answer."
Gonzalez went on to state that she wouldn't wish this ordeal on nobody, "I wish none of this would have happened to my life. It is so hard for me and my family. I wish one day he will send me a letter to explain something, say something, so I can have a better life, I don't have a life right now. My life is gone with him (Tony). Sometimes I wish I could be dead too, because I don't want to go through this. I'm begging you please tell me why you did it. "
The second witness was Morgan Cruz-Erickson a close family friend. Rosales was the Godfather to her daughter and was considered part of my family. "I could not believe it. He was loved by everyone and was a devoted father and husband. No words for a loss like this, not something you can prepare for. There is someone to blame and someone to punish. He had a long life ahead, now it is just memories. The emotional impact of every holiday and birthday is hard. Nothing can bring him back. Knowing he is punished to the fullest extent of the law brings justice."
Kathy Johnson, mother of Morgan reaffirmed that Tony was a close friend and part of her family. She said the loss to the family can't be put into words, "We can't explain what a mother must be feeling. I've lived 24 years in Juneau. This affected by home. People have come up to me these past three years and shared wonderful things about Tony."
Johnson added that the loss has been felt by many, many people. "We're going to go forward, we won't get over it, we need your help (Judge) to go forward. We need the maximum sentence, if you give any opportunity to this individual to be out of prison, you will sentence my grandchildren and Tony's daughter."
Prosecutor Amy Paige said Rosales did many meaningful things in Juneau in his job as a jeweler. He made a lot of jewelry and fixed a lot of jewelry. She added Juneau is a friendly town and should be kept safe. "We want this to be a safe place for people to come. His life was cut tragically short. He had so much more to offer the community of Juneau. So many more rings and necklaces to build."
Paige said one fact stood out about the crime. She noted the victim was very vulnerable at the moment he was shot. "Mr. Rosales was taking off his boots at the moment that he was killed. Juneau knows the difficulty of taking off wet boots. It was an incredibly vulnerable moment. He is completely unaware and had no reason to fear for his life. He had done nothing where he should fear for his life. For it to end in that moment is precisely why Mrs. Gonzalez struggles with the reason why. Everyone worries they will lose someone they love. Unexpected loss is the worst loss."
Paige told the Judge that security for the community is also a concern. "If we can't ensure that this kind of conduct will never happen again. We have no way of knowing, no rhyme or reason, no rehabilitative program that ensures some measure of safety. Isolation should be the goal. Rosales death was not a loss to one person, it is a loss to us all."
Paige said they did not ask for the maximum sentence because De Simone had no prior record. They asked for 75 years in prison.
Defense Attorney Deborah Macaulay said anytime a life is cut short it is terribly tragic no matter the circumstance. She said she didn't want to minimize the loss in any way. She added her client doesn't have an answer in this case. She went on to state De Simone is remorseful and punishes himself every day in jail. She said he wishes this didn't happen.
De Simone also made a brief statement to the court and apologized for the murder. He continued to maintain it was an accidental discharge from the revolver that killed Rosales. "An accident does not preclude fault and does not mitigate responsibility, they are mine and mine alone. I understand the depth of this. The hardship that's occurred is only the beginning. I understand the negative impacts will reverberate into ensuing generations. Not too many years from now a daughter will look for a wedding day surrogate to walk her down the aisle and a young family will miss a grandfather, I am certain Antonio would have been a wonderful grandfather, I apologize and take full responsibility for all of that. I would be remiss if I didn't apologize to Bill Young for their loss and hardship.
Check back for updates. Judge Philip Pallenberg is expected to pass sentence at 10:30 am.