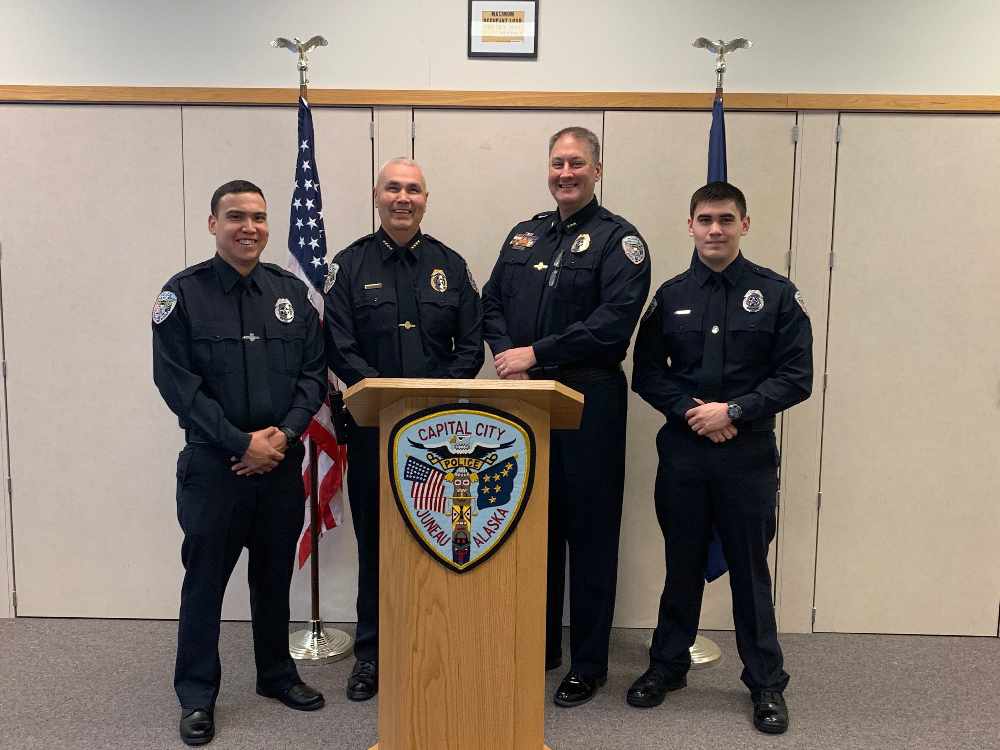 (l-R) Duain White, Chief Ed Mercer, Deputy Chief David Campbell and Jonah Hennings-Booth.
Juneau, Alaska (KINY) Police Chief Ed Mercer gave the oath to new police officers Duain White of Juneau and Jonah Hennings-Booth of Eagle River.
White was born in Juneau and was raised in Hoonah. He graduated from Hoonah City Schools and later moved to Anchorage where he enlisted in the United States Army as an infantryman. He served four years at Fort Irwin, California.
Duain has worked at Lemon Creek Correctional for the past two years as a Correctional Officer and Booking Officer.
Jonah Hennings-Booth was born in Anchorage, Alaska, but moved to Nome, Alaska shortly after birth. At age 13, he moved to Eagle River, Alaska, and remained there and graduated from Chugiak High School in 2013. Jonah worked as a Public Safety Technician with the Alaska Wildlife Troopers for 3 summers. Then, for the past year, he has worked as a Security Officer for Denali Universal Services at the Alaska Regional Hospital.
Both Duain and Jonah are Alaskan Natives. Duain is Tlingit, and Jonah is Inupiaq. They will both be attending the Public Safety Academy in Sitka Alaska from February to June.