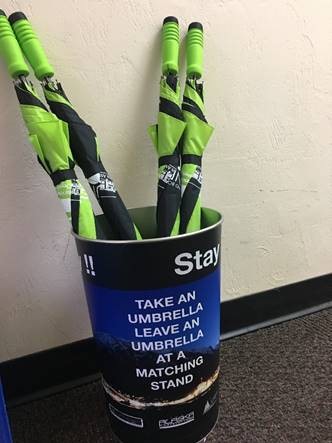 Juneau, AK (KINY) - A new program looks to make walking around in Juneau's often rainy weather a little more enjoyable.
Sometimes it is the little things that can make a rainy day less dreary. Through a combination of partners, Juneau will be getting a community program that looks to keep folks a little more dry when the rains hit.
Several downtown locations will soon have free to use umbrellas that can easily be picked up and then dropped off at another location for continued use throughout the city. The goal is to make Juneau more walkable and vibrant for anyone who is traveling on foot through the city.
The Shared Umbrella Program is a low-cost service that seems like a logical move in a city that sees frequent showers throughout the year. It was inspired by visitor surveys conducted by the Juneau Economic and Development Council.
Groups that helped put this program together include The Downtown Business Association, the Alaska Committee, the Juneau Economic Development Council, and the City & Borough of Juneau.
Here are a list of pick up/drop off locations:
The JACC
The Senate Building
The Alaskan Brewing Depot
The Hangar on the Wharf
The Silverbow Inn
The Baranof
The Juneau Economic Development Council
The Capitol Building
McGivney's Downtown
Annie Kaill's Gallery
City Hall
Amalga Distillery
Centennial Hall
Rainbow Foods
Heritage Downtown
Red Dog Saloon
Salt Restaurant
Saffron Restaurant
Juneau Drug
Triangle Club Bar
Rainy Day Retreat Books