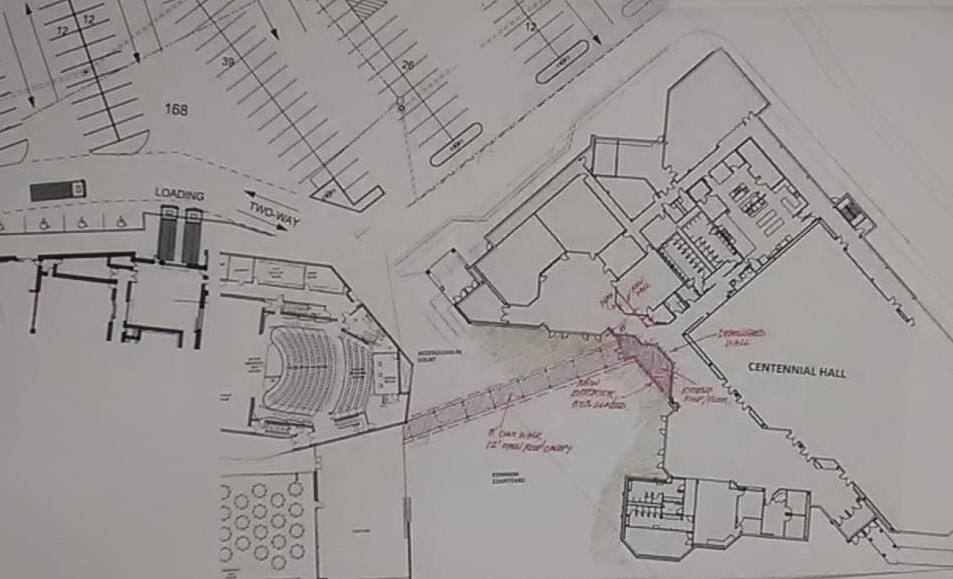 An MRV Architects proposed design for one of the remakes of Centennial Hall.
Juneau, Alaska (KINY) - A public meeting was held Thursday night to address the future of Centennial Hall, its connection to the New JACC project, and what priorities are pressing at the aging facility.
Over the past few months more than 130 residents have responded to a survey asking what they want to see in a renovated Centennial Hall.
In general the survey indicated substantial support, including both convention and performance use. Out-of-town convention focus was highly ranked. Building deficits were relatively consistent, with audio-visual needs cited as the most critical deficiency, followed closely by improvements to the main ballroom, and providing additional break-out space.
Four schemes were developed for consideration and review. Three schemes included both comprehensive renovation of Centennial Hall, and the addition of priority new spaces such as meeting rooms and larger foyer. One option was more limited, focusing primarily on renovation of Centennial Hall, with changes to remove the foyer bottleneck.
Each scheme identifies a pedestrian link to an expanded New JACC.
Paul Voelkers is a partner with MRV Architects, the firm heading up research into improvements to the hall.
"What we're doing is a fairly focused five-to-six-week burst [of research] to try to find some information for the CBJ Assembly that studies what's both wrong with Centennial Hall right now, but what additions and tweaks might help it function better," Voelkers said.
Some of the top priorities include the building's sound system and physical plant.
"The audio-video systems are really tired and worn out right now," Voelkers said.
When it comes to any possible new construction, Voelkers says one particular space isn't big enough currently.
"The key space that has been identified ... is the deficit of meeting space right now," Voelkers said. He added that pinch-points in the foyer is also a key area being looked at.
Liz Perry of Travel Juneau says meeting space in the Capital City is at a premium and very important.
"This renovation is very important because what we're finding is that the hall is really behind the times," Perry said. "We're actually losing meetings because of that ... we have got to update this structure."
With as much as $21 million at stake for a full remake of the hall, MRV has enlisted outside help to study the costs. Voelkers said that MRV and the CBJ have enlisted the help of Dawson Construction to prepare an overview of costs going forward. A study of the future operational costs will fall to the McDowell Group, according to Voelkers.
Michelle Bonnet-Hale is a City and Borough of Juneau Assembly Member and chair of Public Works and Facilities Committee. She reiterated the need for a new sound system, but also for other needs.
"We need to know what the needs are," Hale said. "Those include the sound system and the electronics [in the building]."
And Hale says the top-end $21 million price tag should not discourage a study of the need for a renovation of the hall.
"We don't have $21 million sitting around," Hale said. "The only way we could do that is through a bond, for example. What we're really trying to figure out now are the needs, and then what are the estimated costs, and then we, and the citizens of Juneau, will figure out where we want to go."