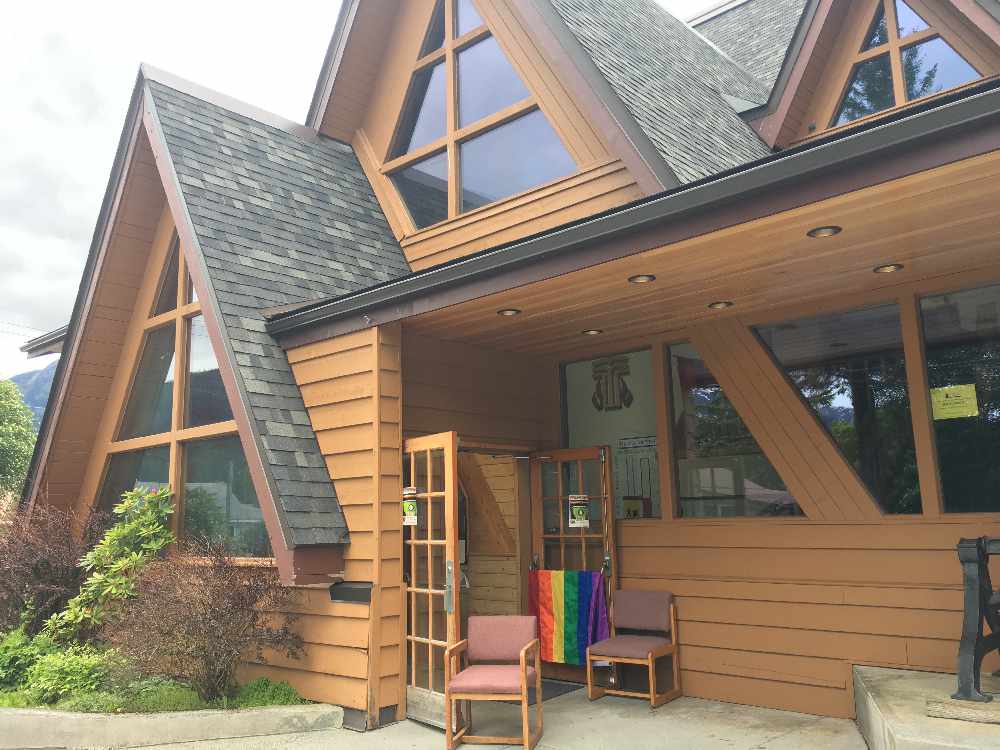 Juneau, AK (KINY) - As part of Juneau Pride Month a small gathering was held at the Northern Lights Church. Known as the Two Spirit reception, the event was held as a way to connect LGBTQ+ to the Native community and Celebration. 
We talked to some of the people at the Pride Committee who have been working on planning events. James Hoagland explained to us the goal of holding the Two Spirits Reception.
"It's been really important to us to recognize the importance of Celebration and bringing together the LGBTQ+ community along with the indigenous community of this area. It is crucial and for a long long time it's been invisible."
Hoagland also told us about the term of being Two Spirit.
"One of the terms that's used by indigenous people, especially Alaska Native, is two spirit to describe a sexual orientation or gender identity that is outside of the mainstream. It's kind of their equivalent of LGBTQ+, so it's just another culturally specific term to describe a membership in this community."
There are all sorts of events through Pride Month being held, all in an effort to make safe spaces for people to be who they are and celebrate themselves. On Sunday the 39th Annual Pride Picnic will be held. Jolynn Shriber invited anyone to come share some fun and good food.
"Sunday there is that pie picnic and that is all ages all families are invited we're going to have games and barbecue and food."
"Just come together and we're going to do the Mildred Boesser Award and that's an award that we give for somebody who has done a lot in the LGBTQ+ community. Come out and have some fun and good food."
Also at the picnic will be free health testing. Hoagland explained some of their partners.
"We are super excited to partner with not only Planned Parenthood, but also Juneau Public Health Center. They're going to be offering free HIV and STD testing at the pride picnic and at the kickball game in their mobile testing unit. Iit's really been fantastic for us to be able to incorporate these messages about wellness and taking good care of yourself alongside celebrating and having a good time."
The woman being honored is Jennifer Fletcher. Hoagland explained, "The award recipient tomorrow for the Mildred Boesser Equal Rights Award is for a woman who is suing the state of Alaska for denying her trans healthcare."
"We're really happy to honor Jennifer Fletcher in her bravery in stepping forward and being in the national spotlight around these issues."
The Pride Picnic also has a long history in Juneau. Hoagland told us about the beginnings of the celebration.
"SEAGLA has actually been around since 1979 in Juneau celebrating Pride. This is the 39th Annual Pride Picnic that's going to happen tomorrow. That's a long and very real history that we have here and it's a complicated history. It hasn't always been as easy as it is today and it's not as easy as it needs to be we still have a lot of work to do."
When asked about the importance of Pride Month in Juneau, Mitchell Leggett said that he strives to help make spaces for people to be themselves, free of judgement.
"We had prom last night and we saw people of all ages there who were so happy that there was a prom for them, they could go and be themselves. I think for me when we hit Pride week, it's a chance to celebrate who you are and go and have fun and be yourself and there's no repercussions for it."
"I think that I can speak for the entire community in that."
"For me when I personally get invested and help these events roll I'm doing it because I want other people to have fun as well and know that they are loved and accepted."
Other events planned for Pride are the RuBall's Drag Base kickball game on Wednesday June 13th as well as the LGBTQ+ Trivia night at the Imperial Saloon. Of course, next weekend is the Glitz! Drag Show on both Saturday and Sunday. Tickets are already sold out for Saturday, but Sunday still has some openings.
For more information about Juneau Pride Month, check out the SEAGLA website.