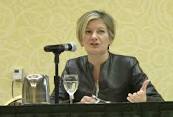 Alaska Attorney General Jahna Lindemuth
Juneau, Alaska (KINY) Alaska's Attorney General joined with 18 other states to request Congress allow marijuana related businesses to use banks.
At the moment there is not legal way for marijuana businesses to deposit revenue which makes them cash only operations. While that doesn't preclude them from doing business, it can lead to security concerns. It might also keep government from collecting tax revenue.
U.S law currently prohibits banks from working with marijuana businesses. Proposed legislation would provide a safe harbor for banks and other institutions. Supporters say It would protect public safety and also bring a new flow of cash into the banking industry.
The states claim the policy change from U.S. Attorney General Jeff Sessions to no longer overlook marijuana crimes in federal law, mandates the need for national legislation that clarifies how marijuana should be regulated and policed. Sessions rescinded the 2013 Cole Memo which deferred the enforcement of marijuana laws to individual states.