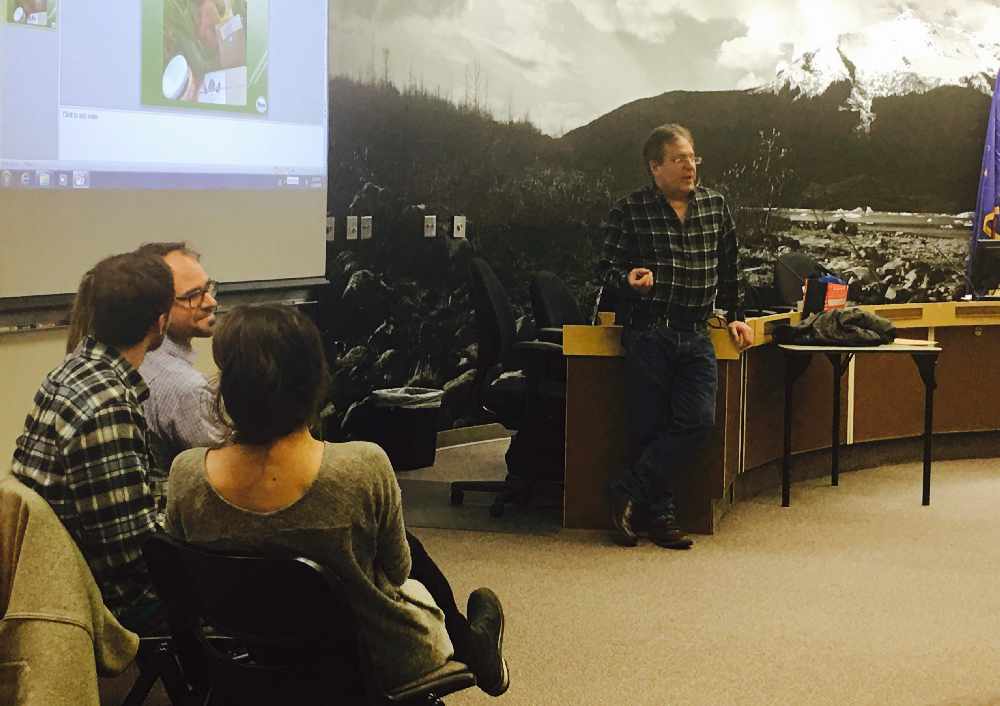 Juneau, AK (KINY) - Juneau continues to work on educating the public on ways to create a more sustainable food practice.
The Juneau Commission on Sustainability brought together a panel where they talked about food security, while getting a ton of insight from local food entrepreneurs.
Panelists included entrepreneurs from Alaska Probiotics, Barnacle: Coast to Kitchen, the Southeast Alaska Watershed Coalition, Salt & Soil Marketplace, and Panhandle Produce.
We talked to a few of these creative business owners, asking first how local citizens can be more involved with locally grown food.
Colin Peacock of Salt & Soil mentioned their website and the various markets around town.
"You can either grow something in your garden, join the community garden, you could go to the Salt & Soil Marketplace website and when we open in the spring buy directly from local food producers."
Peacock said that last year was their pilot year and that they planned to have some downtime in the winter, but they are hoping to stay open year round in the future.
Matt Kern with Barnacle also weighed in.
"It's becoming easier and easier to become involved in the local food scene, which is really great. Probably the easiest way to get involved is to go out and purchase some local food or go to the Second Saturday Farmer's Market, which especially during the summer has a lot of produce."
"Otherwise the Salt & Soil Marketplace is kind of a clearinghouse for many local vendors; that's a good way to see what is being produced locally right now and dabble with a few different products."
We then asked about just how important food security is to the community. Peacock gave us his thoughts.
"Juneau is a place that's heavily affected by food security issues. We buy about 95% of our produce and grown foods from out of state. If we could influence that number even a tiny amount, it would be a huge boon to our economy, to our health, and perhaps most importantly to our food security."
"If something happens where the barges are interrupted or the price of oil and gas goes up, it's going to be really important that we can produce more local food."
Kern talked about just how much improvement is possible.
"I think it's a very important topic here in Southeast Alaska and what makes it especially exciting is that it's something that we have the capacity to improve and work on with our existing knowledge and skills. Right now we're producing such a small percentage of our overall foods that any improvement on top of that can go a long way and we have a long way to improve on that."
Aside from more traditional approaches to food, Alaska Probiotics brought the popular kombucha drink to the table. For those unaware on what kombucha is, she explained.
"Kombucha is a fermented beverage that is teeming with raw, alive probiotics and it can help populate the strains in your body."
Kalia Buerger explained the basics of probiotics and the health benefits involved.
"Probiotics are found in the lining of your stomach and digestive tract, so there are trillions and trillions of these probiotics that line the stomach, line the digestive tract, and help you manufacture vitamins, hormones, infuse lots of different little great vitamins and nutrients into the bloodstream."
"They're really impactful on the immune system; 70 to 80% of the immune system response happens in the digestive tract. They're also really prominent in stress control. They do a number of different things and basically they interact with any of the systems in the body."
She also was excited about new research that continues to push things further.
"Now there's lots of emerging research that's happening with what exactly probiotics do for the overall body. Certain levels and the percentages and ratios of the good bacteria in the body indicate good health, whereas is if you have a depletion of a certain population or strain of bacteria you're going to see disease happening."
"For example, if you have a really high level of firmicutes bacteria in your stomach, then it's very relatable to metabolic disease, obesity, and diabetes."
She also told us of some research done in Iowa that took the scoby used in Kombucha making to make a leather substitute, which was used to make a rather dapper pair of shoes.
All of these food producers were excited to work collectively to improve food security in Juneau, while at the same time offering a delicious option that's home grown. Find their products in a local market or by looking online.
Those interested in participating in the discussion for Juneau's food security, should consider coming to the Juneau Commission on Sustainability meetings.