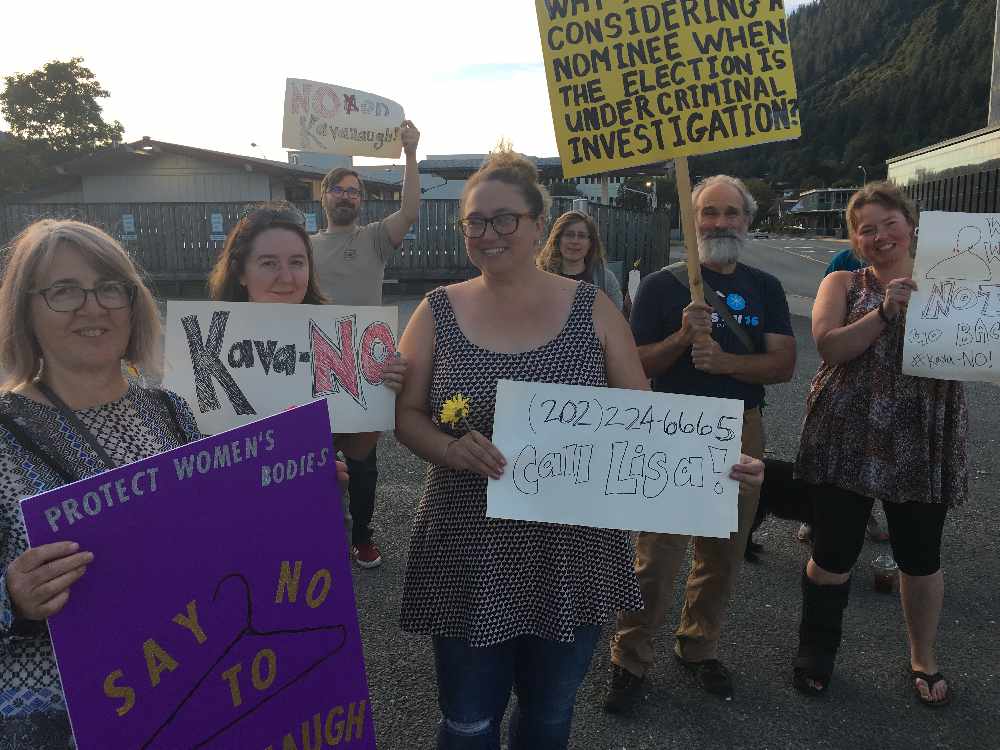 Juneau, AK (KINY) - Juneau residents put together a rally in front of Murkowski's office, asking her to vote no on Kavanaugh.
By the end of September, if the current schedule holds up, Brett Kavanaugh could be on the Supreme Court. In Alaska, many have speculated that Senator Lisa Murkowski could be a critical vote on the matter, prompting a group of Alaskans in Juneau to gather in front of her office and ask her to say Kava-No.
The group was organized by a pre-nursing student who was asking drivers and passerby to reach out to Murkowski. We asked Kirsa Hughes-Skandijs about why she put together the rally.
"This rally is to encourage Lisa to back the stated positions that she has in the past. She has previously said that abortion was kind of a line in the sand for her. Women's rights are something that she's willing to buck the party line over when they're calling for a vote along party lines and so this vote I think is particularly important it's equal to if not the most important vote of the last couple of years of this administration."
She tells us that there have also been some things written by Kavanaugh that could lead one to think that he wouldn't have the best interests in mind for Alaskan Natives.
"Another claim for attention is the way that Kavanaugh has spoken and written on the record about indigenous people in the past. So he has written an article in which he argues that Native Hawaiians didn't have any system of governance before they were colonized, which is easily disproven and so I think that has immediate application to Alaska and our native people as well as decisions that he's made in the past affecting the sustainability of subsistence harvesting."
That article was published in the Wall Street Journal back in 1999.
Hughes-Skandijs said that the best way to ensure that one's opinions are heard is to reach out to Senators directly.
"The best thing you can do is to call Lisa. Make your voice heard; she is easily contacted by email and fax. I know a lot of people prefer fax because it's entered into the public record."
"If you do get through to a staffer, it's a great idea to ask them to recap your main points to make sure that the gist is gotten and recorded. There are a lot of great groups on Facebook; it's the digital age so there's a lot of digital organizing but the most important thing is to contact for yourself."
Contact Senator Murkowski through a number of ways offered on her website. To contact Senator Dan Sullivan, use his website.