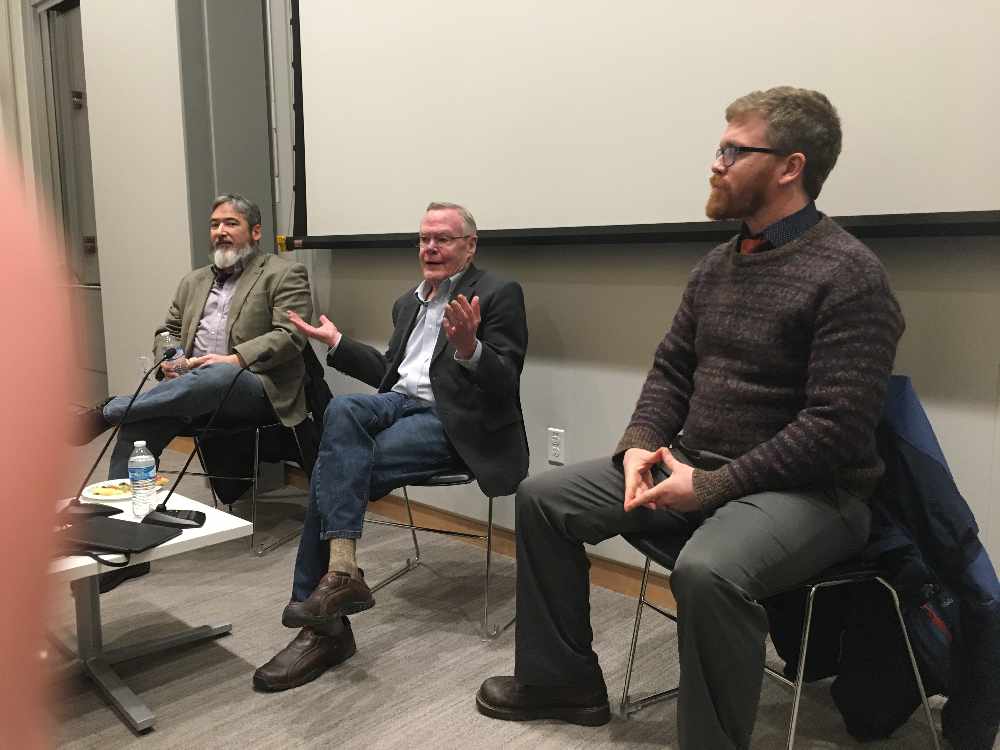 (L-R) State rep. Sam Kito, Senator Dennis Egan and State rep. Justin Parrish.
Juneau, Alaska (KINY) Juneau's state legislative delegation asked for action on a state fiscal plan just days before the Alaska legislature convenes.
There was a full house at the Mendenhall Valley library Thursday night as constituents showed concern about the state government, its fiscal crisis, the Marine highway system, airport and transportation funding, health care spending and other issues.
State Senator Dennis Egan said this session worries him because its an election year and he doesn't expect anything to get done to stop the gridlock. "Tons of gridlock. We have to come to some sort of conclusion so we can handle these things as people of the state of Alaska and not as regions. We can't fight against each other. We have to come up with a solution that is best for the people of the state."
State representative Justin Parrish said the oil tax structure needs to be changed and the permanent fund needs to be protected. He said the legislature in recent years has spent $12 billion from reserves and he described that as "wildly irresponsible." He compared it to being on the titanic with an iceberg ahead and saying, don't worry, its melting. "Most of the spending was by previous legislators, the majority that I helped to replace. The spending in the absence of a fiscal plan is profoundly irresponsible. That is why I hoped pass a fiscal plan to the senate in the first 90 days I was in action. I hoped that they would do the responsible thing so we don't keep spending down our savings and our children's savings."
State representative Sam Kito said he was also pessimistic about the chances of a broad based tax being approved. He said the state faces a near $3 billion shortfall and don't have the savings to cover that debt. He said the state government has made significant cuts in the past few years, "We are around 17-20 percent reduction in the past three years. That has had a significant impact on the services we provide to the state. We have done as much cutting as I'I feel comfortable doing. We have to figure out how we are going to pay for the services we provide Alaskans."
The next legislative session begins on Tuesday.