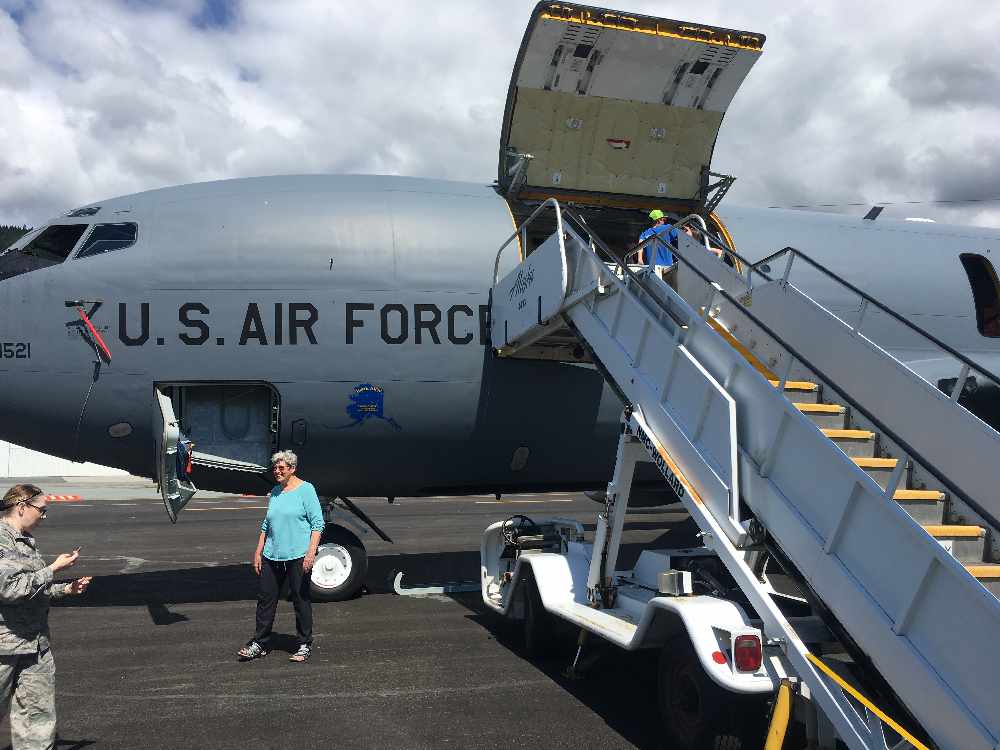 Photo credit to Charles Murphy
Juneau, Alaska (KINY) - The Boeing KC-135R Stratotanker air refueler plane spent four hours in Juneau Monday.
The 168th Wing of the Alaska Air National Guard held the aircraft display of the US Air Force plane built in 1959 on the apron near the Army Aviation Facility.
Many Juneau residents took advantage of the free tour.
Colonel Bryan White is the commander of the 168th Wing. He flew the plane down from Eielson Air Force Base.
White said the event was meant to attract visitors and recruit new members to the Air National Guard.
He said the National Guard provides many different opportunities and career fields for those that join.
"This jet is capable of refueling everything in the US inventory and most of our allies assets. I've refueled aircraft from Korea to Japan, to Australia, to the middle east. We have jets on the road around the world all the time," he added.
The plane helps the military in combat and other missions.
"We can put up to 200,000 pounds of gasoline on the airplane. It is a significant amount. It allows large aircraft to continue point to point without having to stop to refuel. We also refuel smaller combat aircraft," he added.
In addition to fuel, they also assist humanitarian missions. This year a group with travel to Mongolia. The Air National Guard provides doctors, dentists, and volunteers a way to travel to help struggling nations. The program is called Pacific Angel. White has visited Vietnam, Sri Lanka and other countries.
About 60 doctors, dentists, and optometrists provide services in these countries. The crew is made up mostly of reservists doing annual training, Dentists pull about 8,000 teeth in two weeks, doctors see up to 20,000 patients, and they planes provide transportation to fill the airplane with cargo and people
Audio from Colonel Bryan White