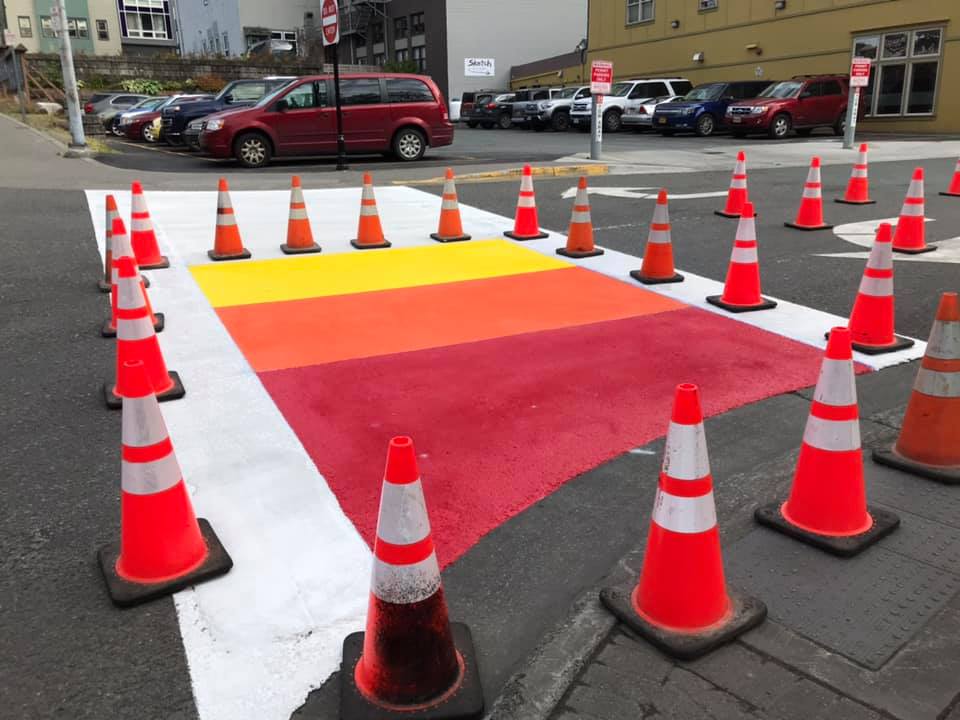 Photo credit to CBJ.
Juneau, Alaska (KINY) - A rainbow crosswalk was installed at Front and Main Streets today.
It is part of the Rainbow Crosswalk Pilot Program. The first three colors were painted this morning.
A community group is funding the entire cost of the crosswalk.
"I kind of teared up this morning when I took pictures of the first colors. I'm feeling proud of the people who came together and persevered to actually see paint on the ground. I can't wait to take my kids by to see it. I'm excited and proud that we can see this installation every day that celebrates the strength and diversity of our community," Steve SueWing, coordinator of the Rainbow Crosswalk Working Group, said.
The working group was formed last summer. The estimated cost of installing the crosswalk is $3,000, SueWing says. The group is fundraising for $10,000 total for the initial installation as well as maintenance for the next three years. People can also donate directly to the Juneau Arts & Humanities Council, the fiscal sponsor of the project. Following the pilot program, SueWing said he hopes other groups in the community will take over financial responsibility of maintaining the crosswalk.
The crosswalk will be comprised of rainbow stripes between two white lateral lines, allowing it to remain compliant with the federal Manual on Uniform Traffic Control Devices. The paint for the rainbow colors is water-based so completion of the crosswalk is weather-dependent, but it's anticipated to be finished by the end of the week.