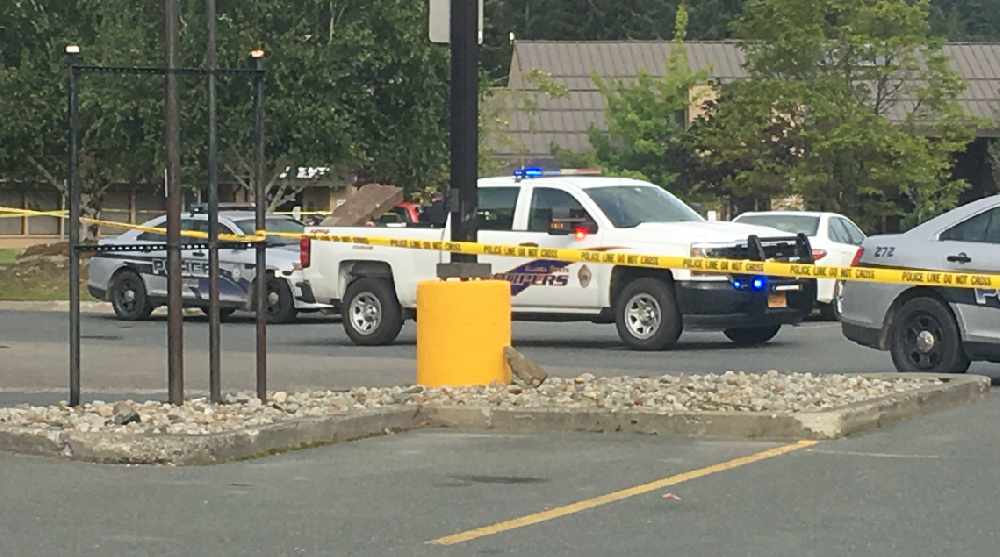 Multiple law enforcemwent agencies respoded to the scene Sunday morning. (Photo by Charles Murphy)
Juneau, Alaska (KINY) - A Juneau police officer was involved in a shooting Sunday at the Safeway gas station.
The officer has not been named, but reports from the Juneau Police Department are that the officer discharged his weapon twice after a man tried to attack him just after 9 a.m.
According to police, dispatch received a call at about 9:10 a.m. reporting a physical dispute in the Safeway parking lot. A second call was received within minutes reporting a male had strangled a female inside of a vehicle in the parking lot. An ambulance was dispatched to stage in the area.
When officers arrived, a 29-year-old male was contacted inside the vehicle. The male was shot twice by one of the officers. The male was transported by ambulance to the Bartlett Regional Hospital and later flown to Seattle via medevac.
"We got a report of a disturbance between a male and a female in the parking lot of Safeway at the fuel pumps," said JPD Lt. Krag Campbell. "As officers were responding they got additional information that a female had been strangled, so that makes it a more serious offense. As the officers arrived the situation escalated, and then we had an officer-involved shooting after our officer shot the male half of this dispute. He was shot two times and he's currently in the hospital right now getting medical treatment."
Per policy, the responding officers have been placed on administrative leave. Their names will not be released for a minimum of 24 hours.
Campbell added that the investigation will be two-pronged in the case.
"We'll have an investigation into the strangulation and then we'll have the investigation into the officer-involved shooting," Campbell said. "We have policies and we'll contact investigators that are going to come out here to make sure we do everything properly, according to our policies and procedures.
The investigation is ongoing.