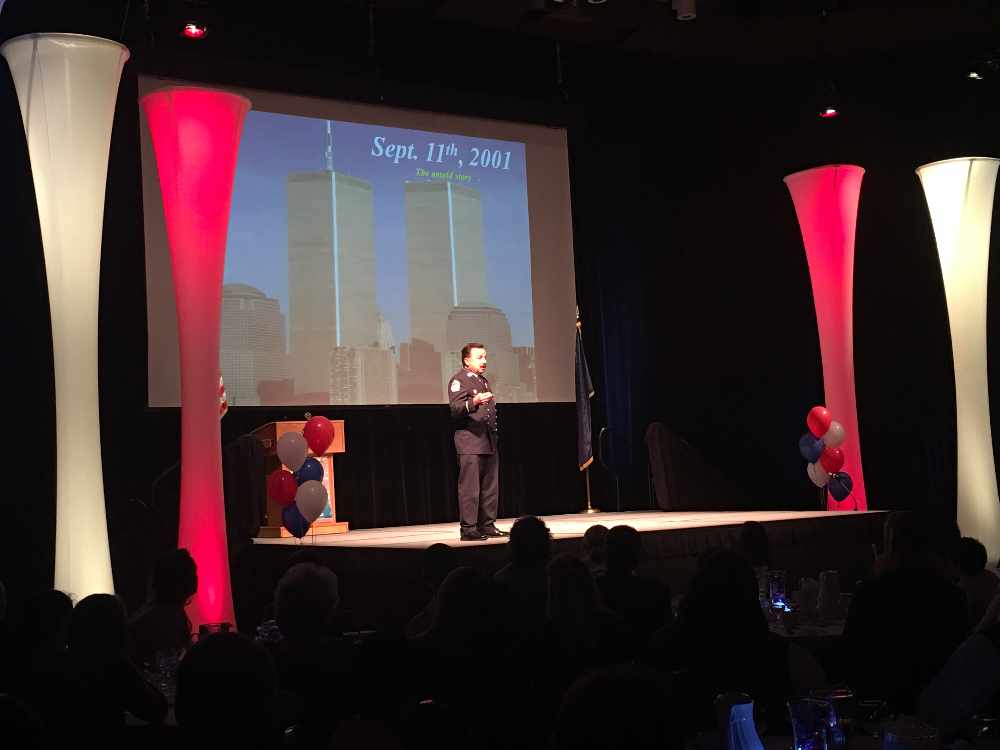 Juneau, AK (KINY) Torrillo, who served the New York Fire Department for most of his life, was the last of three guests for the Pillars of America speaker series that is put on by the Juneau Glacier Valley Rotary Club. 
Torrillo had been at ground zero during the September 11th 2001 terrorist attacks on the Twin Towers in New York City. That day he had been preparing for a press conference to reveal a new Rescue Heroes action figure based on New York firefighters, but had seen the first plane hit and jumped into action to try and help people.
When the buildings collapsed, Torrillo was buried alive with several injuries, only to be rescued and then buried again when the second tower fell. He now travels sharing his story and further educating people about the event that he hopes America never forgets.
We talked to Torrillo after his speech, as well as local Fire Chief Rich Etheridge. We asked Etheridge what he thought about the event.
"Joe Torrillo does an amazing program; I really like how he's keeping the message alive so that people remember the 9/11 events and that we're all one big United States and in trying to bring people together and not look at as a tragedy."
Torrillo was asked what advice he had for young people that are just trying to figure out their career path.
"Times are changing in so many different ways and I always advise young people to seek out any kind of profession that's going to give them a dedicated pension, because you need financial security."
"If you can find a job that you find fulfilling that you can give a lot too and it makes you happy, it's giving you a pension, then you want to think along those lines."
"I tell kids all the time you have an A Plan and a B Plan. All the kids want to start out they all want to be Michael Jordan, they all want to be Oprah Winfrey. I say, you know what, you can do it no doubt, but if it doesn't happen have your B Plan."
In an emergency situation, Torrillo says its best to stay calm.
"Panic is something that most people end up doing and the impedance for panic is something that I call lack of training. The more you train, the more knowledge you have, the less likely you are to panic in any situation."
We also asked Torrillo for his advice for educators, many of which are struggling financially across the US.
"You take on a profession, because you really believe in it; you see it through. I remember that for almost 10 straight years back home in the New York City Fire Department the Mayor didn't give us any raise at all, but we had a job to do, we had a commitment to the public, and you don't let anything come in between that."
Being a first responder carries a lot of responsibility, but can be a rewarding career path. We asked Chief Etheridge what he might say to those thinking about becoming a first responder in Juneau.
"Being a first responder in our local community is one of the most rewarding career professions or volunteerism that you can get into. You receive so much more back than you actually give to the community. For the small sacrifices we make of our time, our efforts, our families' efforts, we get it back tenfold from our community."
We asked Torrillo a similar question.
"A lot of the departments around the country have what's called a Cadet Program or Junior Firefighters. I would urge all of them to try and get involved and to expose themselves."
"Firefighters and police officers run special programs and sometimes that's the spark that a kid needs, but if you don't expose kids to anything then sometimes they don't really know what they want to do and that's the job of parents and mentors and teachers."
Find previous Pillars of America coverage below:
9/11 Survivor Joe Torrillo to Speak for Pillars of America
Derek Clark "The Rapping Dad" Inspires Juneau
Todd Huston - Record Holding Mountain Climber Speaks in Juneau