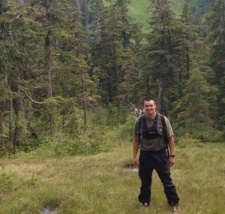 Mitch Haldane in the field. (Photo courtesy Sealaska)
Juneau, Alaska (KINY) - A former Sealaska intern now administers the organization's carbon program.
Mitch Haldane is now administering the carbon project, which includes ongoing monitoring and fieldwork. Sealaska's carbon project includes a yearly inventory of species and growth, as well as pruning to support growth.
"One hundred years from now, Mitch Haldane's work will be part of Sealaska's past. Written in the history books will be a story of transition when Sealaska set aside 165,000 acres of forested lands for a carbon-offset project," states a press release. "For the next 100 years, forests within the project lands will be managed for the purpose of carbon sequestration. Sealaska began receiving income from the carbon project in 2018."
In 2016, Haldane interned with Sealaska. His training took place in the traditional homelands of Tlingit people and largest temperate rainforest, working on the carbon-offset project and supporting the Hoonah Native Forest Partnership; HNFP is a network of landowners in and around the community of Hoonah.
"As an intern, I was part of a team that included the U.S. Forest Service and Hoonah Indian Association," Haldane said. "Together, we conducted stream surveys to identify fish passage obstacles for Coho salmon in areas surrounding Hoonah."
"Haldane's work will keep him connected to lands that sustained generations of Indigenous peoples of Southeast. In his new role with Sealaska, he will implement his environmental biology knowledge to support Sealaska's purpose of working toward improving the health of our oceans and enhancing the natural environment," the press release states.
Haldane is Tlingit, Eagle, Wooshkeetaan and Tsimshian.