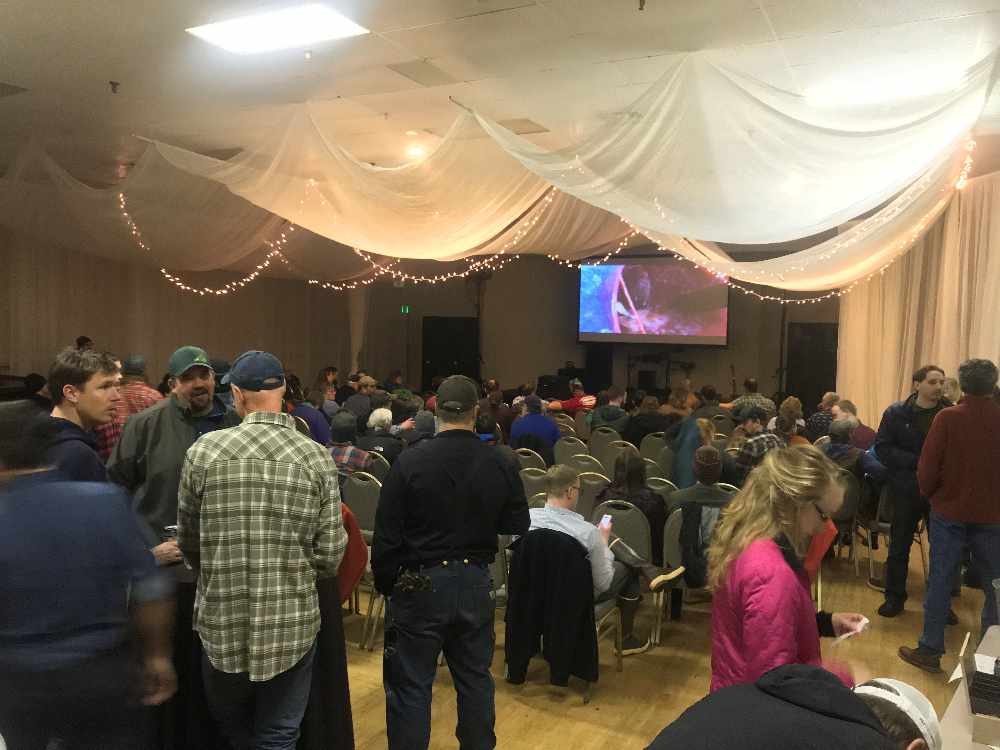 Juneau, AK (KINY) - Friday evening in downtown Juneau, fly fishermen and conservationists gathered to view the short and feature films of the International Fly Fishing Film Festival.
On Friday evening, the International Fly Fishing Film Festival or IF4, rolled into downtown Juneau. The room was filled with everyone from conservationists to avid fly fishermen, nature film enthusiasts to those just curious about the sport of fly fishing. IF4 includes short and feature length films made by filmmakers all around the world, that exhibit the culture of fly fishing. The festival makes stops all over the world, and for the last four years, also in Juneau.
Event organizer, Kayla Roys spoke about the genesis and reason for bringing IF4 to the southeast region of Alaska saying, "we started premiering it here the last few years as our chapter's big way to raise money and raise funds for our chapter for the conservation work we're doing in town". President of the local Tongass Trout Unlimited chapter, Kevin Maier added about maintaining excitement over the cold months for fishing, "from the chapter perspective, it's just getting people out, getting them excited about the access to our own local cold freshwater fisheries and saltwater fisheries. But really just getting people out in the winter, getting them psyched about fishing and reminding them that Trout Unlimited is here and we're working on some things that are important to people who love fish and fishing".
Conservation is certainly a strong topic of discussion in Alaska, with Maier adding that that one of the biggest reasons for the evening was to highlight various efforts regionally, "we're blessed here with healthy fish runs but that doesn't mean that there aren't threats to them and one of the things that Trout Unlimited does both at the national level and at the local chapter level, and the level of getting people together is pays attention to these little threats. We know if we look at the story of salmon in the lower forty-eight, salmon in Europe, it's not a particularly rosy, happy ending. It's pretty grim. And so we have a chance to do it right here, and I think we should".
Those interested in joining the conservation efforts of Trout Unlimited are invited to join via TU.org, or if interested in learning about fly fishing, come to a fly casting night scheduled for May 23rd sponsored by Trout Unlimited and Alaska Fly Fishing Goods of Juneau.