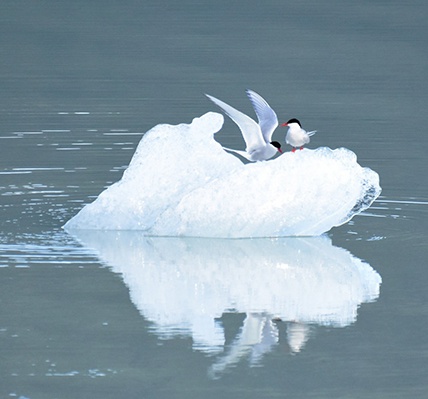 Courtesy photo
Juneau, Alaska (KINY) -The Mendenhall Glacier Visitor Center invites you to a Fireside Lecture on Friday titled From the other side of the world: Arctic Terns at Mendenhall Glacier.
Arctic Terns are beautiful seabirds that make one of the longest migrations of any animal on earth. Birds return each summer to Alaska after wintering south to Antarctica. Wildlife Technician Gwen Baluss will discuss what we have learned about this species from watching and photographing their nesting colonies near Mendenhall Lake.
The Friday night Fireside Lecture begins at 6:30 p.m. and repeats at 8:00 p.m. Doors open at 6 p.m. Fireside Lectures are free of charge, and thanks to our partners at Discovery Southeast, cookies and tea are served in the lobby.
Discovery Southeast is hosting a rotating art exhibit to complement the Fireside Chats presented by USFS at the Visitor Center. Each artist can submit one or more pieces; please email bookstore manager, AnnMarie Ellison, at AnnMarie@discoverysoutheast.org. The Theme for March is Lesser Known Winged Things of AK.