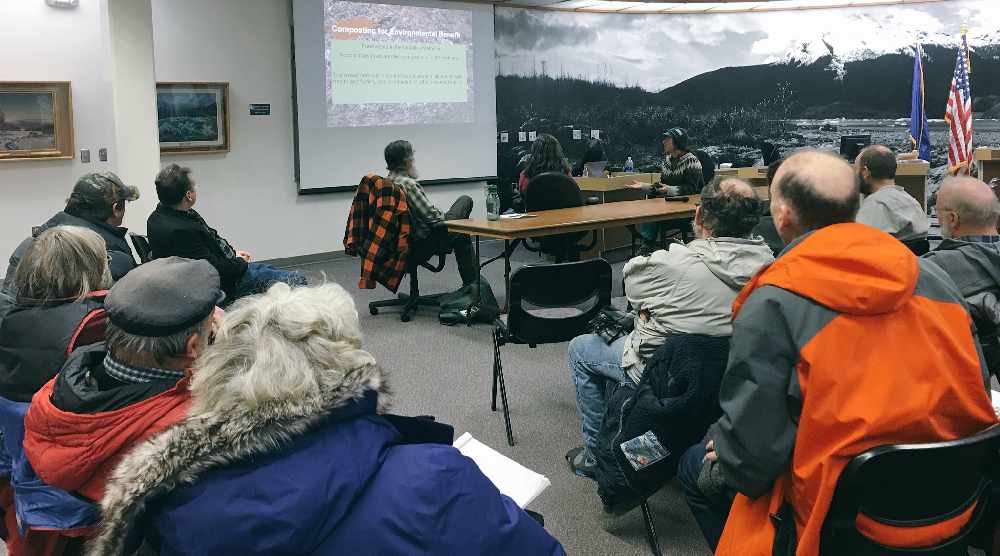 Juneau, AK (KINY) - The latest meeting of the Juneau Commission on Sustainability focused on composting success stories and practices.
To further build on the education of food security, the Juneau Commission on Sustainability brought folks together to talk about composting to improve soil quality in agriculture, as well as reducing waste.
A lot of the fears addressed by food security is the loss of the vital supply chains, of which Juneau is extremely dependant on. The experts at the panel say that there is an incredible opportunity to increase food production in the area, especially considering the average experience of local growers being about 14 years.
Composting is a practice that can take either lots of energy or nearly none at all, resulting in a usable product either way.
Lisa Daugherty of the Juneau Compost Processing Service told us about the steps involved in composting.
"First it involves collecting the materials you want to compost. You need a mixture of high nitrogen things and high carbon things and you mix them in a way that allows air to infiltrate and basically microbes will eat through the pile and cause it to change into a completely different product."
She also told us some of the uses of that product.
"You can use it as a soil amendment in your garden and so it's going to provide nitrogen, but it's going to be a little different than just applying nitrogen you might buy in powder or liquid form, because it has a slower release. So, you might apply it and it will give you nitrogen over years. You can also just mix it with sand and seaweed to make a growing medium."
We also talked to Michele Elfers, the CBJ Recycle Works Manager, about what programs are being used by the City of Juneau to increase sustainability.
"We have our Recycle Works program that involves recycling, junk vehicles, and household hazardous waste and then we have a branch that does some composting. One of our goals is to reduce the amount of waste that goes to the landfill."
Elfers also said that the city is looking a few ways to add in composting.
"We're looking at the feasibility of starting a municipal composting program and the idea behind that is that's one of the best types of recycling we have, because it's local processing, it stays in town, it doesn't have to get shipped out, and it becomes a beneficial reuse that can be used to grow food in our community."
The group is looking at ways to make a community centered effort for composting and to alleviate some of the fears that people in Juneau for have. Lots of folks worry about bears and the temperatures making composting difficult, but there are plenty of people composting successfully. Many of them are also eager to share their methods.