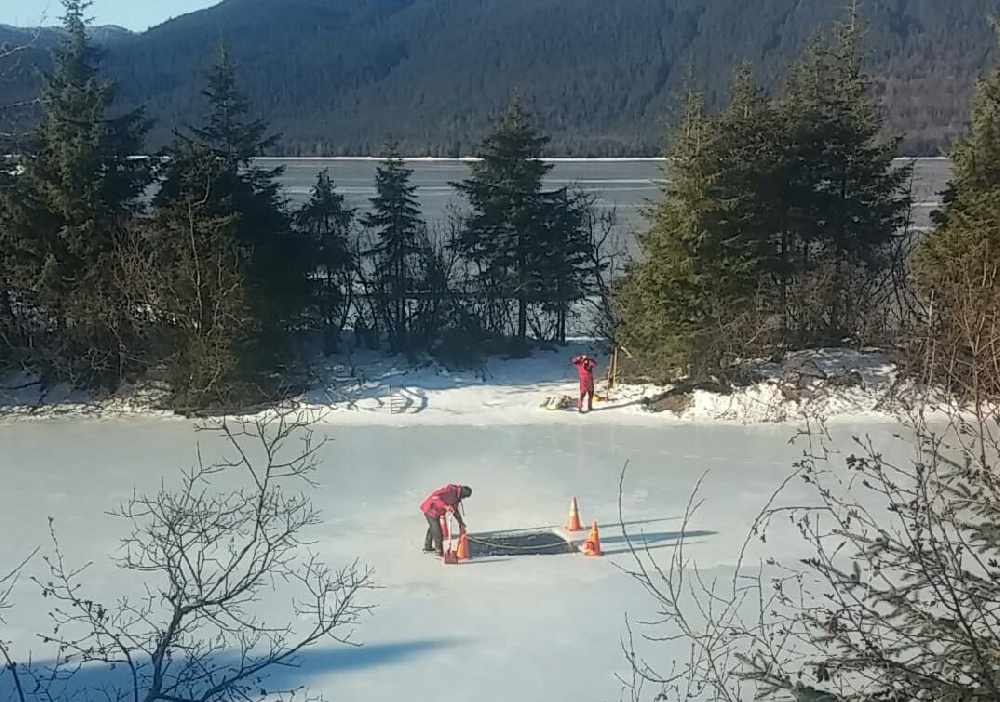 CCFR personnel prep a hole in the ice to demonstrate safety procedures if you fall through. (Photo by Greg Knight)
Juneau, Alaska (KINY) - Juneau is a winter wonderland this time of year, and with freezing temperatures comes a chance to get out on the ice that forms on our various waterways.
But the safety of that ice can be deceiving and falling into the frigid water underneath can be deadly.
For that reason Capital City Fire-Rescue's Capt. Jayme Johns offered a class and demonstration at Mendenhall Glacier on Saturday to offer details on how to identify unsafe ice and stay alive if you fall through.
"Capital City Fire Rescue's special ice rescue teams did a presentation to show the general public how to get out of a hole if they fall through the ice," Johns said.
Johns says no ice should be considered safe at all times. He says CCFR personnel keeps an eye on such conditions when they can. When trying to identify whether ice is safe, Johns also offered some tips.
"My message is that there is no safe ice," Johns added. "But if you do venture out, the weather is the biggest factor. Right now we have a cold spell, but earlier in the week we were in the 40s. If you look out at Mendenhall Lake, you can see lots of people out there and there is open water."
Johns also offered tips on what to do once you get out of the water.
"The first thing is don't panic," Johns said. It's going to be cold but you have to tell yourself you are going to get out of the hole."
Johns reiterated that if you go out on the ice, be aware of the weather and standing water.