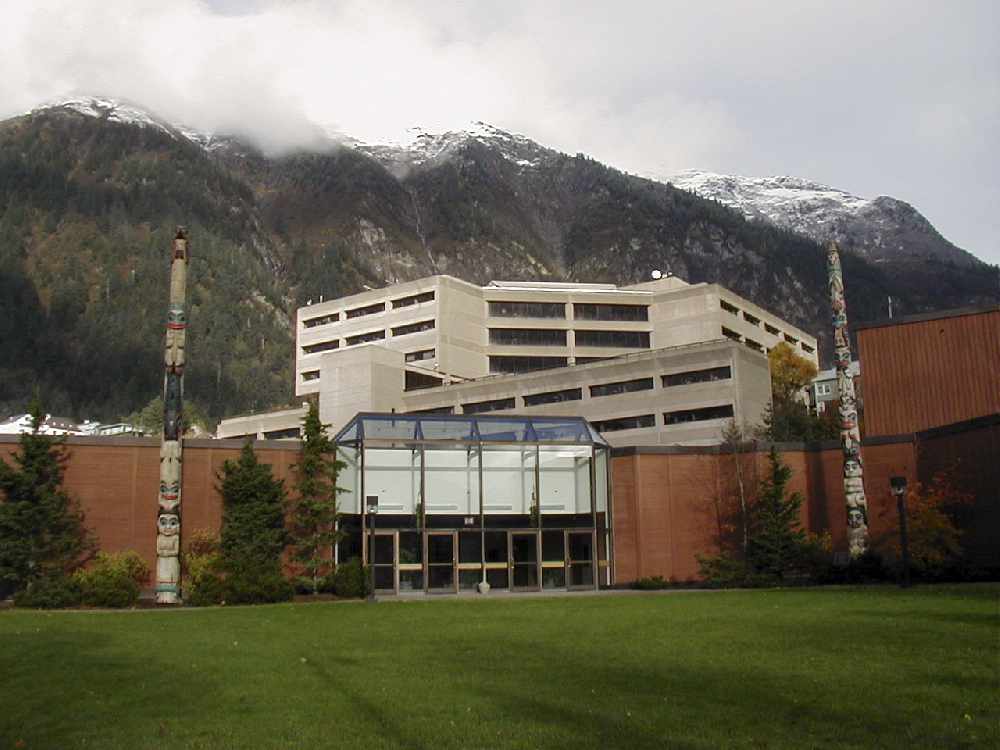 Centennial Hall in downtown Juneau.
Juneau, Alaska (KINY) - The City and Borough of Juneau Public Works & Facilities Committee received the initial report of MRV Architects on updates to Centennial Hall and the New JACC on Tuesday at City Hall.
The City and Borough of Juneau contracted with MRV Architects and other consultants in recent months to identify shortcomings with Centennial Hall, and to develop a recommended conceptual option for a refurbished and expanded facility.
According to MRV, the report will "help provide the CBJ Assembly, CBJ management, and the community the information needed to understand and evaluate potential upgrades to Centennial Hall."
"In general, the facility has been unchanged from its construction in the early 1980s," the report states. "While some important changes have occurred within the building, such as bathroom improvements, much of the building remains untouched. Certain features, like the audio/video systems and operable wall panels, have reached the point of obsolescence."
The document also states that, after review of four different options with the facility steering committee, and the public through an open house, a preferred option was identified for further development. A key element, MRV found, is linking Centennial Hall and a New JACC facility with a
"strong pedestrian connection so the two facilities could be mutually supportive, with increased shared space and programming across the two facilities."
Significant changes in the final conceptual design option include additional meeting spaces to better support conventions and events, revised corridor layout for improved management and efficiency, expanded central foyer space, provision of daylight and views into most spaces, new mechanical and electrical systems, and comprehensive new audio/visual and technology systems.
Marketability and promotion are also clear factors moving forward, according to the report.
"Given recent upgrades in other Alaskan cities with alternative convention venues, such as Sitka's Harrington Centennial Hall, it will be critical for Juneau to offer equally attractive and capable facilities to maintain a competitive footing in the lucrative convention market," the report states. "An interesting fact is that Juneau currently has very low convention booking through the prime summer months. Most of Centennial Hall's use consists of local or regional activities which do not use the summer months. This creates a potential opportunity to increase Juneau's summer bookings, attracting independent summer visitors."
According to MRV, the final construction cost total $12,842,000. The total project cost, including a 40-percent markup to reflect design, administrative costs, furnishings, and project contingency, totals $17,980,000. This number includes approximately $2,950,000 for the site
components, and $15,030,000 for the building itself.
Committee chair Michelle Bonnet Hale says the only likely way way to raise that much capital, given the budget woes in the Capital City and the state, would be via a general obligation bond.
The next committee meeting is set for July 1.