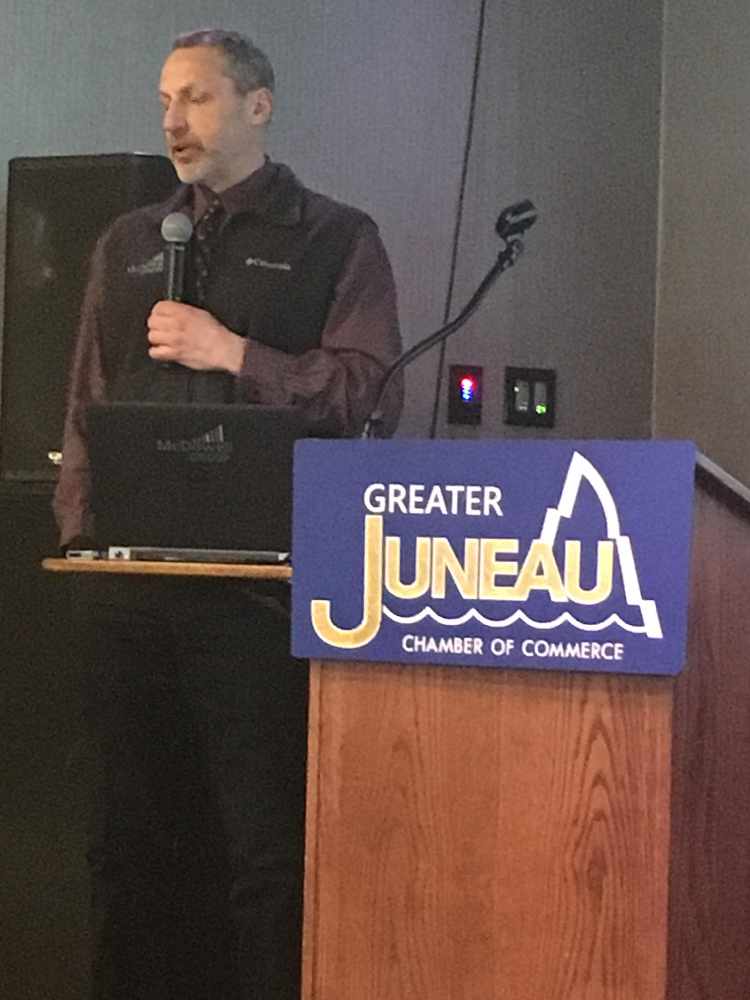 Jim Calvin of the McDowell Group
Juneau, AK (KINY) - The results of a new survey regarding freight transportation systems was shared during a Juneau Chamber of Commerce luncheon.
For every person in Juneau, 27,000 pounds of freight is delivered to the borough each year, which requires a reliable and sustainable freight system.
Jim Calvin of the McDowell group presented an updated freight survey at the Greater Juneau Chamber of Commerce luncheon. Calvin says he was surprised by how much the business community relies on the Marine highway system.
"We were quite surprised to hear the business community voice their interest in an improved Alaska Marine Highway service in Southeast Alaska to connect them with their customers both in the region and out of state. Everyone understands how important freight, air-freight, and barge services are, but it surprises us to hear how much businesses place emphasis on the Alaska Marine Highway System."
Juneau exports fish, beer, and scrap metal. 70 million pounds of beer was exported in 2016.
The survey also found shipping costs are a key concern of our businesses.
"Just be aware of the connection between supporting transportation infrastructure development in Juneau. What the community, what the city can do is provide that support for infrastructure development. It's up to the private sector after that to provide services."
The study recommended a deep water port, a road to Skagway, more air freight and a more reliable ferry service.