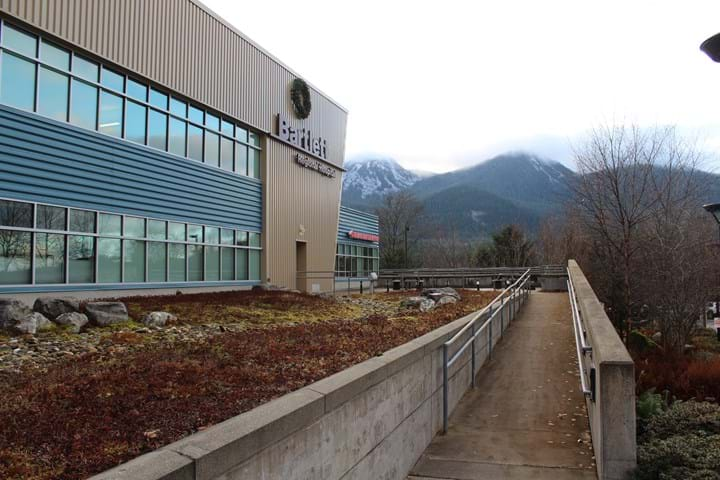 Photo credit to Bartlett Regional Hospital.
Juneau, Alaska (KINY) - The state budget will cut $1.5 million in funding to the local hospital.
CEO Chuck Bill has been at Bartlett for over five years. The hospital is owned by the CBJ. The Assembly appoints the nine-member board of Directors for three-year terms. Lance Stevens is President of the Board this year.
Bill told the group that the past few months have been very exciting as they fight for state funding. He thanked the Juneau legislative delegation for supporting the hospital.
The budget cuts hospital funding by five percent from Medicaid. "We can more than likely weather the storm. If we lose all the jobs that will be a devastating hit to Juneau."
He said they would have to consider cutting programs if the cuts increase due to job losses in the state capital.
"The core mission is delivering babies, having a really good emergency room, basic surgeries and having an intensive care unit."
He said the hospital will have to make some really tough decisions in the next couple of months.
The hospital handled 4,655 inpatient days and 1,088 days in intensive care, 805 in OB, 7,270 in acute care. They had 325 births this past year.
The mental health unit had 3,341 patient days. 60 percent of these patients come from outside Juneau.
Rain Forest Recovery had 3,975 patient days. There 2,414 inpatient admissions down six percent from last year.
They had 1,329 admissions in observation status. These numbers increased by nine percent in the past year. They had 2,931 surgeries this past year.
The hospital also had 14,541 emergency room visits, 1,020 for cardiac, 3,625 lab visits, 112,461 lab tests, 10,271 radiology visits, 30,311 radiology tests and 312 sleep study visits.
The hospital also served 327,287 meals last year, an increase of 24%. He said a number of businesses near the hospital take advantage of having the cafeteria close by.
The total operating revenue for the hospital was just over $101.3 million, up to about $3 million over last year.
Total expenses were $2.04 million over budget at $102.6 million. He said the hospital continues to struggle to break even on operating costs.
They recruited nine new graduates out of the UAS nursing program this year.
Another highlight this year was the recruitment of an ophthalmologist, Dr. Andrew Kopstein, to the hospital.
Ben Brown said the legislature restored funding for the Alaska Council for the Arts.
105 golfers took part in the Juneau golf classic this past weekend. Over $4,700 in prizes were handed out this year. The winners were Forbidden Peak brewery. El Sombrero finished second.