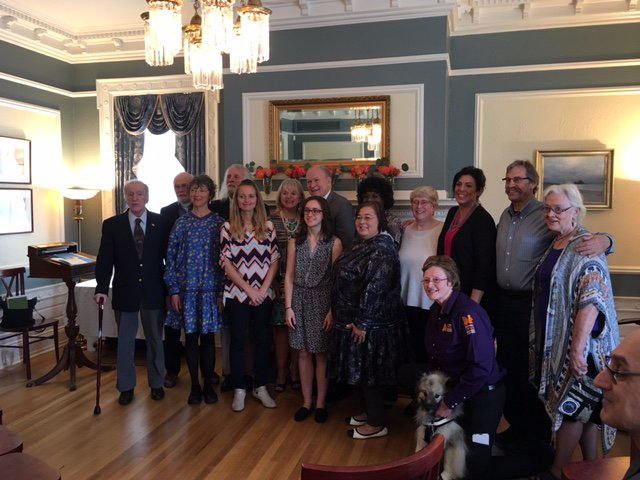 The First Lady's Volunteer of the Year Awards recipients.
Juneau, AK (KINY) - A variety of volunteers from around the state were gathered to be recognized for the First Lady's Volunteer of the Year Awards.
Thirteen men and women were recognized for their service to their communities with ninety nominated overall. First Lady Donna Walker said that she is surprised every year at the sheer number of people doing good in Alaska.

Margaret Griffo and her dog Waverly are a part of a volunteer Crisis Response Canine team who helps people after a disaster or tragedy with the emotional support of an animal.
"It only takes once when you see somebody who's hurting and the dog connects with them and you see the stress fall off of them and they start to talk and their isolation goes away. It only takes once and you're hooked and you keep on doing it as often and as best as you can."
We asked Griffo what she would say to those looking to improve their community through volunteerism.
Ethel Thomas, who has led weekly Bible Studies and preached sermons for prisoners at the Anchorage Jail and the Hiland Prison for 40 years, told us that is her faith that allows her to help others.
"If someone wants to make a difference in their life, accept Jesus into their lives. A lot of people believe that they have done something, that God has stopped loving them, and that is not so. God will always love you, all of us because we are His creation. He's there for us 24/7."
The First Lady said that volunteers are extremely important to Alaska.
"Volunteers are certainly the backbone of our communities. They are in the trenches day-in-and-day-out serving the people in their community. They are driven by their passion and love."
"It's not a job, it's a it's a calling."
Here is a full list of those recognized via a press release:
Ethel Thomas, Anchorage. Thomas has been a weekly volunteer at the Anchorage Jail and Hiland Prison for over 40 years. She's led weekly Bible Studies, preached sermons, and visited with thousands of people who benefit from her love, faith, and support while incarcerated. At 85, she's described as vivacious, well-prepared, and "continually cheery." She's also a perennial volunteer at the Alaska Native Medical Center, Beans Café, Brother Francis, and Salvation Army.
Michael Carson, Palmer. After a 35-year teaching career and serving as a longtime volunteer for Covenant House, Mr. Carson founded MyHouse, providing a safe home, job training, and daily hot meals to young Alaskans experiencing homelessness. He helped found the Mat-Su Opioid Task Force, connecting people affected by opioids to a respectful and supportive system of care. From personal interventions, to community advocacy, legislative lobbying, and hosting public meetings, he's "changed the landscape of the recovery community for Alaska."
Audrey Saganna, Fairbanks. Saganna offers unwavering help in the face of her community's most heartrending events: as a crisis response chaplain, she counsels and supports victims, surviving family members, first responders, and medical staff. She also provides education on how to grapple with grief and trauma. Born and raised in Barrow, Ms. Saganna's Inupiat values and cultural knowledge inform her ability to help her community cope with grief.
Jennifer Waller, Soldotna. Mrs. Waller founded the Freedom House, a faith-based home for women transitioning out of incarceration and recovery programs. She is a successful mother of three and a recovering addict, whose story inspires others. She and her board members independently raised more than $400,000 in less than a year to remodel and open a safe space for ten women.
Don Gotschall, Juneau. Described as a "Juneau treasure," Mr. Gotschall is a retired civil engineer who has volunteered his skills for more than 50 years to improve his community, around the state, and abroad. At 83, his long list of accomplishments include mission work, church repair from Unalaska to Pelican, and maintaining Juneau's United Methodist Camp. He's donated dozens of hand-turned wooden bowls to local fundraisers and is invested in veteran, senior citizen, and social justice nonprofits.
Chuck Mitman, Haines. Mitman is a volunteer firefighter who exhibits an extremely high level of commitment. As a first responder and EMT 2, he regularly going on four calls a day in his hometown of 1,700 pepole. He's a veteran who dedicates time to the American Legion, and to support scholarship programs, cancer travel funds, and the Haines animal shelter. On top of his service to others, Mr. Mitman is living with Stage IV lung cancer — already outliving his doctor's estimates without appearing to slow down at all.
Kara Nelson, Juneau. Nelson is the director of Juneau's Haven House, which provides a safe home for women leaving incarceration. Ms. Nelson is a nationally recognized leader and advocate dedicated to advancing criminal justice reform, elevating addiction recovery services, and fighting for the civil rights of those behind bars. After her own experiences recovering from addiction, leaving incarceration, and reuniting with her three children, Ms. Nelson is a shining example of why the causes she champions are so important.
Margaret Griffo and Waverly, Anchorage. Griffo and her four-legged partner, Waverly, are a volunteer Crisis Response Canine team. They are critical responders to tragedy and grief, providing emotional support to Alaskans dealing with natural disasters, family deaths, house fires, and more. As the first certified team in Alaska, Ms. Griffo and Waverly put in more than 6,000 service hours in 2017, and mentored others to join their mission. Alaska now has 28 canine crisis response teams statewide.
John Dapcevich, Juneau. At 91, Mr. Dapcevich has made public service a cornerstone of his life since he moved to Juneau in 1928. He's worked in all six levels of Alaska government: territorial, federal, state, city, borough, and unified city and borough. A WWII Navy veteran stationed in Kodiak, he was mayor of Sitka for 12 years, and has served on more than 22 Alaska boards, committees, task forces, and commissions, including the Alaska Public Officers Commission, Southeast Conference Board of Directors, Tongass Timber Task Force, and Statewide Economic Recovery Committee. He spent 16 years on the Governor's Pioneers' Homes Advisory Board.
Doreen Hodges, Valdez. Hodges uses her sewing, quilting, and knitting talents to bring warmth to the lives of those around her. She's sewn dozens of lap quilts for patients at the Providence Rehabilitation Center, more than 100 bags to carry Christmas gifts for children in poverty, and makes at least 50 winter scarves and hats for veterans each year, purchasing all of the materials herself. She was a ten-year volunteer for the Valdez Foodbank, and helps organize the Valdez Quilt Festival every other year.
Caroline Wolf, Fairbanks. What Fairbanks activities is Ms. Wolf not involved in? She gives her time freely to the food bank, soup kitchen, and literacy council; the Fairbanks Art Association, North Star Ballet, Fairbanks Drama Association, and Light Opera Theatre; the Yukon Quest and Iditarod races; the World Eskimo and Indian Olympics and the Arctic Games. She even takes tickets in the cold every year at the International Ice Sculpting Championship.
Carlee Rizzo, Kenai. At 15, Miss Rizzo founded the Nikiski Children's Fund (NCF) to support local children in need. School staff often know when kids have basic needs that aren't being met, from shoes and boots, to paying for driver's tests, to emergency flights from Anchorage and electricity at home. Miss Rizzo help specific students by acting on recommendations for help from teachers and adults that care about them. Two years after founding NCF, Miss Rizzo has fundraised more than $6,700, and given to more than 65 elementary and middle school students.
Peggy Hovik, Ketchikan. Hovik co-founded the iconic Ketchikan Monthly Grind in 1989, offering locals an affordable venue to watch homegrown talent shine. Sitka and Craig started their own "Grinds," highlighting local music, theatre, dance, and more. Mrs. Hovik also makes soup at the Salvation Army Soup Kitchen, volunteers for her church, and plays the guitar in an old-time band that volunteers at monthly square dances, as well as the most recent Kayhi Sadie Hawkins Dance (as requested by the students of Kayhi).