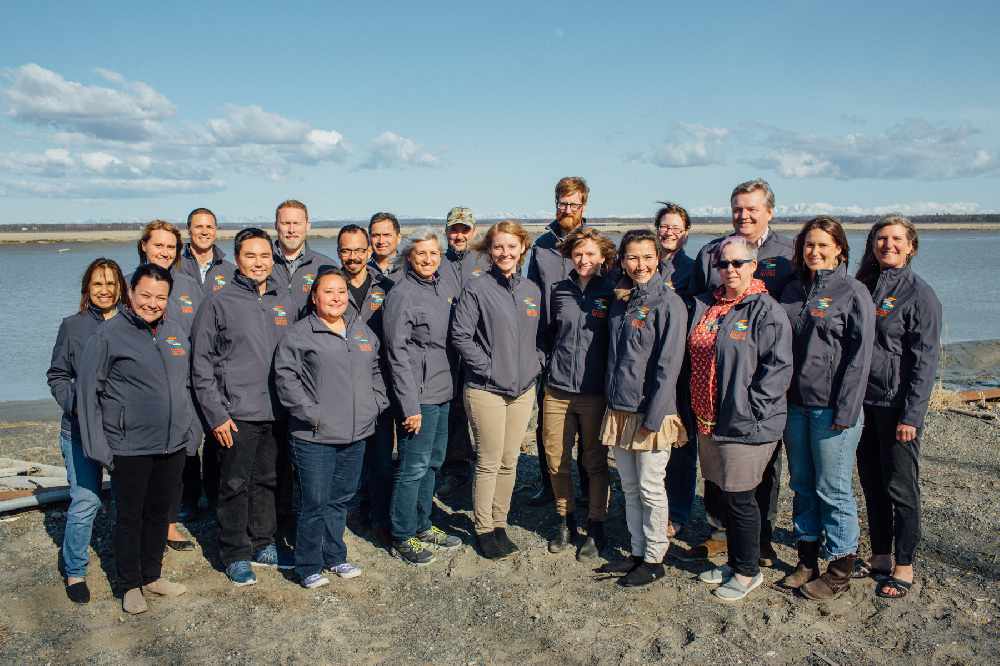 Alaskan Salmon Fellows at a recent event
Anchorage, Alaska (KINY) Alaska Humanities Forum is pleased to announce that it is accepting nominations and applications for its second cohort of Alaska Salmon Fellows through January 31, 2018.
Launched in 2017, Alaska Humanities Forum, along with partner organizations, has designed the Alaska Salmon Fellows program to facilitate demanding conversations about salmon issues among leaders from a cross section of salmon policy, management, industry, activism, research, and cultural sectors. The program specifically challenges Fellows to work collaboratively to identify innovative opportunities to strengthen Alaska's salmon/people system for the benefit of generations to come. "It is thought that the most pressing challenges facing salmon are largely the result of collective actions by people," said Peter Westley from one of the program's partner organizations, Center for Salmon and Society at the University of Alaska. "The Alaska Salmon Fellows is a chance to show that the solutions to the challenges also rest in the collective creativity and innovation of our society."
Only 16 Fellows from across the entire state are chosen for this 18-month program. There are no formal education requirements. The Forum seeks extraordinary people willing to make an exceptional commitment to contribute and reach beyond their current knowledge, thinking and approaches; with a drive to strengthen their current abilities to lead and to make a difference; and with an understanding that successful systems change requires increased and improved collaboration. "This program was an awakening for me," said Mary Peltola, 2017-2018 Salmon Fellow from Bethel and a lobbyist and former state representative. Similarly, Kris Norosz, 2017-2018 Salmon Fellow from Petersburg, has already adopted a wider view of Alaska's salmon/people system. "I believe the health of the salmon resource is inextricably linked to the well-being of our state," said Norosz.
Salmon Fellows receive a $10,000 personal award ($5,000 awarded at the beginning of the program and $5,000 upon successful completion of the program) to advance their efforts to achieve innovative systems change. The program serves as a:
Pathway for new and stronger connections across the diverse sectors that have a key stake in the future of Alaska's salmon; and to rich personal development as an innovative leader.

Network to share lessons and deepen understanding of differing perspectives among the Fellows, sparking new relationships and through them, other stakeholders.

System of Influence with other Fellows, advancing tangible opportunities to inspire innovative, systemic changes which address key issues and challenges for Alaska's salmon/people system.
Participants will take part in four gatherings throughout the program and bi-weekly on-line meetings; and will also complete readings, pursue connections between sessions, and develop innovative projects that promote a strong future for Alaska's salmon and people. In
addition to the personal award, the program covers travel expenses associated with gatherings throughout the Program.
"The Salmon Fellows program supports our mission to connect Alaskans through stories, ideas, and experiences that positively change lives and empower communities,"said Alaska Humanities Forum President and CEO, Kameron Perez-Verdia. "We want to bring together
a diverse mix of people with wide ranging connections to salmon including commercial, recreational,subsistence, policy, and cultural. We serve as host and convener for this challenging and important topic creating the opportunity for participants to grow as leaders, and learn about different perspectives; and find common ground to shape the way that we address salmon and a range of complex issues that affect the lives of all Alaskans."
Please visit akhf.org for further details and to apply or to nominate a fellow.
Online applications must be completed by Jan. 31, 2018.