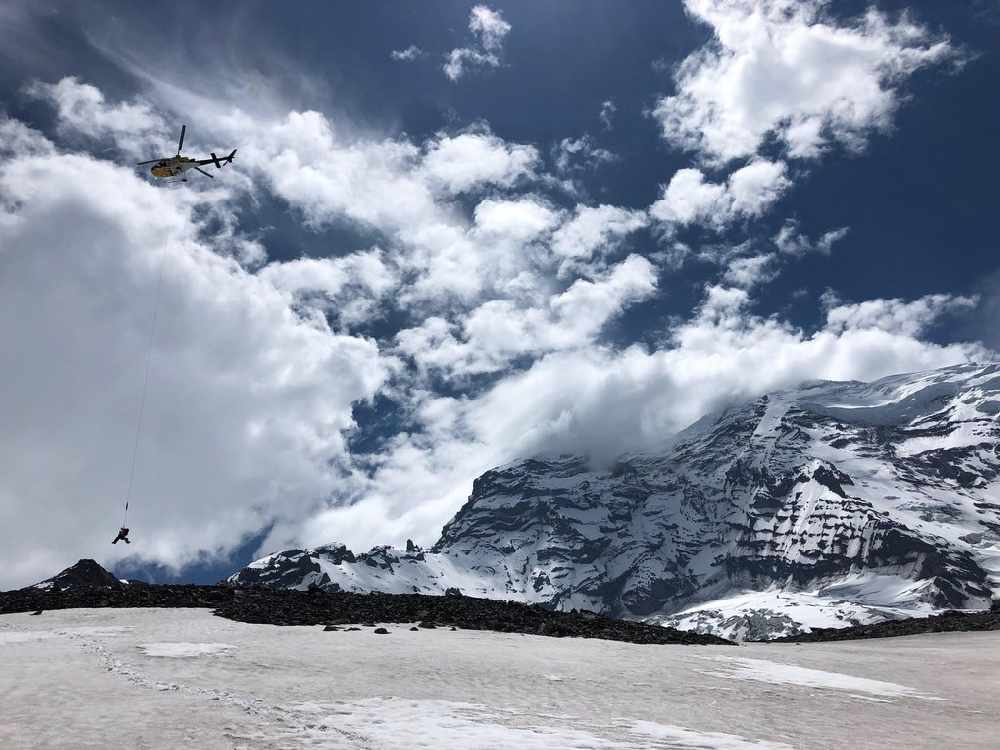 Mount Rainier National Park's rescue helicopter on Thursday delivers a patient, using the "short haul" technique, from an accident site at 10,400 feet on Liberty Ridge to a staging area at 7,000 feet on Curtis Ridge.
Seattle (KINY) - An Alaskan climber died on Mt. Rainier and two other climbers were flown to a local hospital after a rockfall.
According to KIRO-TV, the three were part of a climbing group of six caught in a rockfall at 10,400 feet Wednesday evening. The remaining three climbers were uninjured.
The climber who died was identified Friday as Arleigh William Dean, 45, of Juneau. The Pierce County Medical Examiner's Office made the identification.
The climbers were all experienced, Bacher said. They were in three groups of two and from New Jersey, Colorado, Alaska and Poland, he said. He did not have further information on their identities Thursday night.
Climbers on Liberty Ridge typically make final camp at Thumb Rock before embarking on the difficult final stretch to the summit. While it's generally considered a safe area to camp, and this time is still within the "sweet spot" for climbing the route, Bacher said there are always hazards.
"The reality is, there is risk on this mountain," Bacher said. "There are always things that can break loose, and no place on the mountain is 100 percent safe."
Liberty Ridge is known as the "hardest and most dangerous regularly climbed route on Mount Rainier," according to the National Park Service, which says the route is risky to all climbers, not just the inexperienced. About 98 people attempt the climb each year, with an average success rate of 53 percent, according to the agency's statistics.
A small percentage of climbers at Mount Rainier take on the route, with its steep ascent and risk from avalanches, crevasses and rockfalls, but it's known to be deadly. In 2014, two guides and four climbers died after falling more than 3,000 feet, which was the worst climbing disaster on the mountain since 1981.