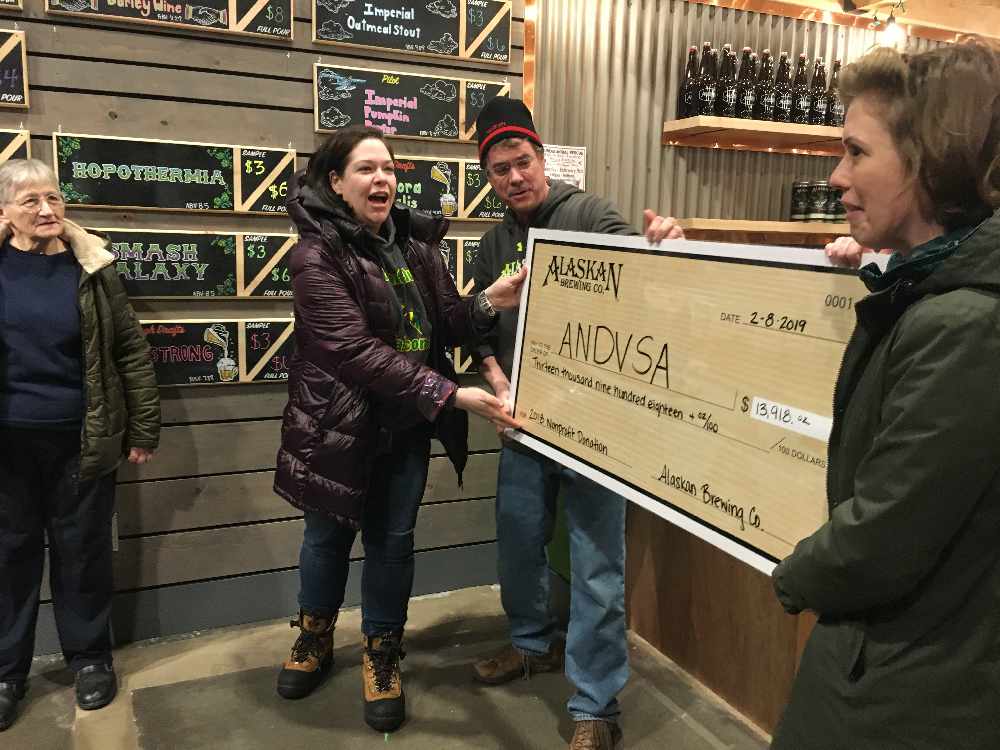 (L-R) Betty Kaplor, Megan Juneau, Andy Kline celebrate the giving nature of Juneau residents.
Juneau, Alaska (KINY) The donations come from the tip jar in the tasting room.
Alaskan Brewing presented a ceremonial check of $13,918 this year.
The employees at the Brewery chose Helping Hands as the non-profit they will raise funds for this year.
Megan Juneau, Youth Engagement Coordinator of the Alaska Network on Domestic Violence and Sexual Assault said the donation was absolutely amazing, "This money will go really far with our organization. We work mostly on grants so any dollar we receive goes to help a lot of people across the state."
Betty Kaplor of helping hands said she was glad her agency was chosen this year
"It's wonderful. We really need it. Expenses are up and donations are down. I'm really grateful that they picked us this year."
Helping Hands mission is to provide food to the needy in Juneau. They operate out of the Switzer Recreation Hall. They provide food donations on Tuesday and Friday from 5:30 to 7 pm.
Andy Kline said the employees of the brewery get to decide which non-profit to help each year, "Every year our crew here picks out the non-profit and they receive all the tips that go into the tip jar at the tasting room and also from special events like Oktoberfest."