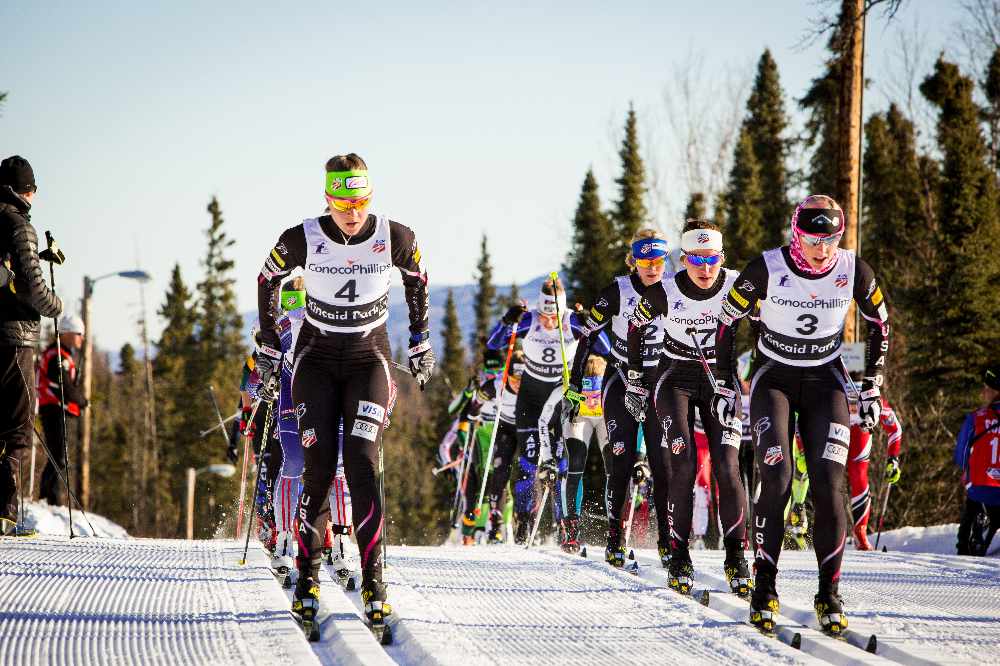 Photo by Charlie Renfro
Anchorage, Alaska (KINY) The best in cross country skiing will be in Alaska in January to compete for the national title.
The skiers will also compete for FIS Junior World Championship spots and potential Olympic berths at the 2018 L.L. Bean U.S. Cross Country Championships January 3-8. All events will take place at Kincaid Park. U.S. Ski & Snowboard will also carry a live stream of the events on its Facebook page (www.facebook.com/usskiandsnowboard/).
Alaska is a hotbed for cross-country skiing and past U.S. Championships in Anchorage have attracted large fields. The Alaskan city most recently hosted the event in 2010. The U.S. Championships are being organized by the Nordic Skiing Association of Anchorage.
The week's competitions feature two freestyle and two classic events for both men and women. The top American in each race will be crowned national champion. Results from the freestyle races and the classic distance events will be used to determine the teams for the 2018 FIS Junior & U23 World Ski Championships in Goms, Switzerland January 28-February 3.
"The U.S. Championships is a stop for our top domestic skiers seeking not just U.S. titles but spots on international teams," said U.S. Ski & Snowboard Nordic Domestic Program Director Robert Lazzaroni. "Anchorage is an excellent venue as the event will capture the great enthusiasm we have for cross country skiing in Alaska."
"Anchorage has an amazing infrastructure for cross country skiing," said organizing committee chair Joey Caterinichio. "Events such as the U.S. Cross Country Championships help keep the circle of cross country skiing alive and give our youth an atmosphere to thrive in at all levels of skiing and to witness the pinnacle of U.S. racing."
All races in Anchorage are also part of the 2017-18 SuperTour and points will count towards the overall SuperTour titles, Olympic Winter Games selection and international World Cup starts. The long distance and team championships will take place March 23-28 in Craftsbury, Vermont.
While primary selection for the 2018 Olympic Cross Country Team will come from World Cup races, some final spots will be determined from results in Anchorage. The Olympic team nominations will be announced the week of January 23.
More information on the 2018 L.L. Bean U.S. Cross Country Championships can be found at www.usskiandsnowboard.org and www.usnationals2018.com. For updates, also visit the event's Facebook page at www.facebook.com/xcusnats2018/.