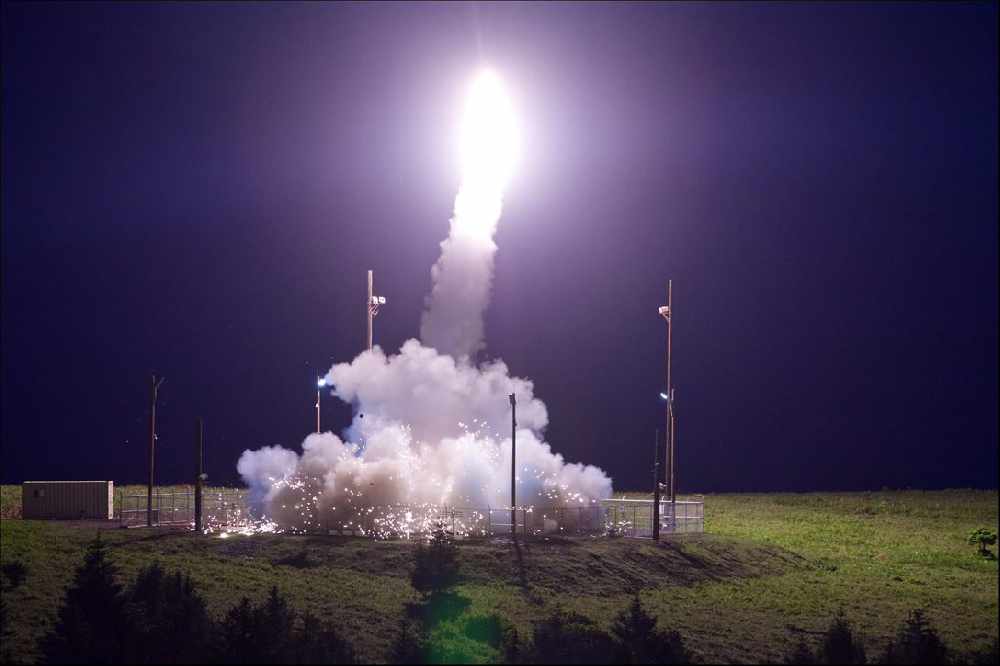 A Terminal High Altitude Area Defense, or THAAD, interceptor is launched from the Pacific Spaceport Complex Alaska in Kodiak, Alaska, during Flight Test THAAD-18, July 11, 2017. Missile Defense Agency photo.
Juneau, AK (KINY) - The short panic in Hawaii from a false missile alert raised the question of what to do in those disaster situations here in Alaska.
To find out, we reached out to Jeremy Zidek, the Public Information Officer with the State of Alaska Division of Homeland Security and Emergency Management, who explained his confidence in the Missile Defense System, the safety plans families can put into place, as well as general disaster tips to decrease risk.
Zidek first spoke on the unlikelihood a missile strike would get through the defense systems that are in place.
"Here in Alaska we have the Missile Defense System and that is a system that we've had in place. It's a working system. It's been working for several years. It's been tested numerous times and it's been successful in those tests, so we do have a high degree of confidence in its ability to intercept any type of missile."
"In addition we have our traditional nuclear deterrent and we really have the best military in the world protecting us."
While it's important to keep in mind, Zidek recommended people prepare for more likely disasters.
"It's extremely unlikely that we're going to see North Korea actually launch this type of attack and we want people to keep that in mind."
"There are plenty of disasters that people need to prepare for here in Alaska. We have earthquakes, tsunamis, landslides, wildfires, high winds, storms, blizzards, cold weather events, heavy rain events, there's all different types of disasters that could impact our communities and we're certain that those types of disasters are going to occur again."
"The North Korean missile threat may or may not, and most likely will not come to pass. So we really want people to be mindful of it, but prepare for the events that we know with certainty are going to happen again."
However, if there was a missile attack, there are some steps that can be taken.
"If there is some type of nuclear attack, what we want people to do is shelter in place. So if they're inside, get them to an interior part of the building and protect themselves from any type of blast. If they can get down into a basement or behind some type of concrete wall, that's even better. From there, they want to stay indoors and not expose themselves to any type of radiological material."
"These are precautions that we want people to know about are in the case of that extremely unlikely North Korean missile attack and if our national countermeasures aren't able to prevent that missile from striking."
For any disaster though, here are some general procedures that could save a life.
"In this state, we prepare for all different types of disasters and we think that individuals and families should prepare for them as well. The best thing that families can do is first have a family emergency plan, so everyone understands what to do during an emergency. Also have a family communication plan and plan for sheltering in place in your home or evacuating."
"In addition, have an emergency supply kit with enough supplies for 7 or more days. This can contain food, water, first aid kit, any type of medications that you may take, hygiene products, a radio, things that are going to enable you to stay in your home for 7 or more days."
"The Lower 48 says prepare for 3 days, here in Alaska we ask people to prepare for 7 or more."
"Then, be informed about all the risks that the community faces, what the warning signs are. Take action and notify others if you see some of these things happening. Time and time again, we see during disasters the people that know what to do and act quickly have far better outcomes than those who don't know the signs or ignore them."
More information can be found at https://www.defense.gov/