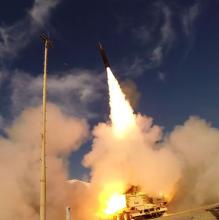 Commercial rocket launches in Kodiak could resume in 2018
Kodiak, Alaska (KINY) The Alaska Aerospace Corporation has began work on starting a subsidiary company so it can do work in the private sector.
Aurora Launch Services should be established in January. The state stopped funding the corporation at the end of 2014 and there was a need to find new revenue streams. This move will allow Alaska Aerospace's launch site and complex to be made available to private companies.
Private companies have grown in the rocket industry in recent years because they can provide launch services cheaper than government can.
"The rocket launch industry has seen significant change over the past five years, with commercial companies like Space X, Rocket Lab, and others exploiting commercial market flexibility to provide lower cost launch services to both government and private sector industries" stated Dr. Robert McCoy, Alaska Aerospace Board of Directors Chair. "Aurora Launch Services will become an integral part of further decreasing the cost of launch, while providing Alaska Aerospace with a diversified source for revenues not generated solely from our Pacific Spaceport Complex – Alaska" he continued. "The Board is excited about continued growth for Alaska Aerospace and the innovative ways that the company is adapting to the changing space launch business" he concluded.
Alaska Aerospace Corporation is a state-owned corporation established to develop a high-technology aerospace industry in Alaska. Alaska Aerospace operates the Pacific Spaceport Complex – Alaska (PSCA) located on Kodiak Island offering all indoor, all weather, processing and providing optimal support for both orbital and sub-orbital space launches. Its corporate headquarters is in Anchorage, Alaska with a regional office in Huntsville, Alabama.
___