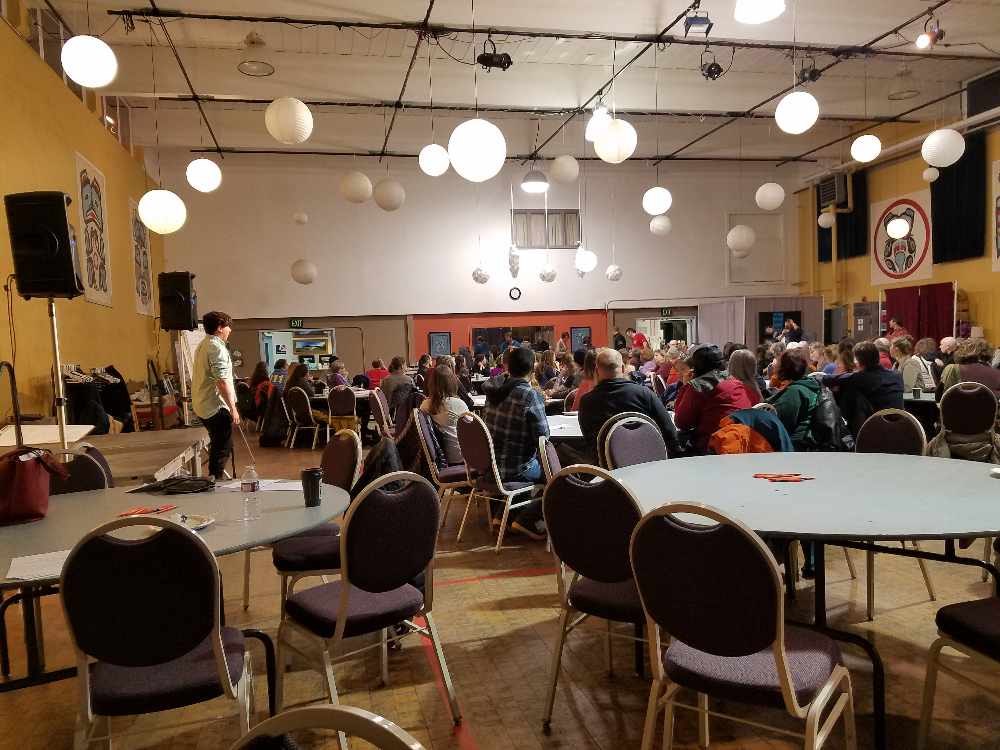 The Juneau Community in Discussion
Speakers urge the public to consider the context of their aesthetic choices.
On Friday night, Juneau Residents met at the Juneau Arts and Culture Center for a conversation about cultural appropriation and a potluck. Speakers gave their cultural insight and some shared stories of their own implicit bias. Citing Ohio State's Kirwan Institute for the Study of Race and Ethnicity, they stated that:
"Implicit biases are often pervasive and are often in direct contradiction with our declared beliefs and/or stances we would explicitly endorse. Implicit biases are malleable. Our brains are incredibly complex, and the implicit associations can be gradually unlearned"
"Our lives, our cultures, are composed of many complex and interconnected stories and yet we are often reduced to single stories/stereotypes. Stereotypes are incomplete, potentially damaging understandings of other people. It is important to explore how systemic power shapes which stories we tell, how we tell them, which stories become normalized and definitive, and which stories reinforce inferiority and superiority"
The speakers had those gathered move to to round tables of about ten with large sheets of paper and agree as a community to some ground rules before moving forward with conversation. Some of these were to "be present in the moment," "to speak to be understood, and listen to understand."
The public was also asked to "take off their hat," not in the literal sense, but to relinquish whatever expertise or authority someone might have from their employment or education. The speakers pressed that attendees were responsible for their own experience, and that they shouldn't expect value from an event if they weren't willing to give it their full attention.
This conversation is due in part to recent controversy involving a wearable art entry with distinctively Asian origins, which was pulled from the second show after public response but still took 3rd place in the event. The dress was only mentioned cursorily and instead the focus of the conversation was general cultural appropriation and many of the speakers were First Nation Tribe Members. The event was unique in that the T'lingit language preceded many of the speaker's statements in English, and the language was woven in frequently during the English comments as well.
When speaking of the difference between cultural appropriation and cultural appreciation, Kolene James, using the emblem of a Beaver as reference, stated that she could not bear the symbol without the invitation of the Deisheetaan People. Even if she received that invitation, Ms. James stated that she would have to be able to communicate why if she wearing it, if asked to on the spot. To do so without the people's permission and this understanding, she said, would be cultural appropriation. She said that she could appreciate their culture and beaver emblem without appropriating it by purchasing a piece of art from a Daisheetan artist and hanging it on her wall.
The speakers urged that the issue of cultural appropriation could not be fixed overnight, but encouraged the conversation to continue toward understanding.
JACC Director Nancy DeCherney says to expect more conversations like this in the future.