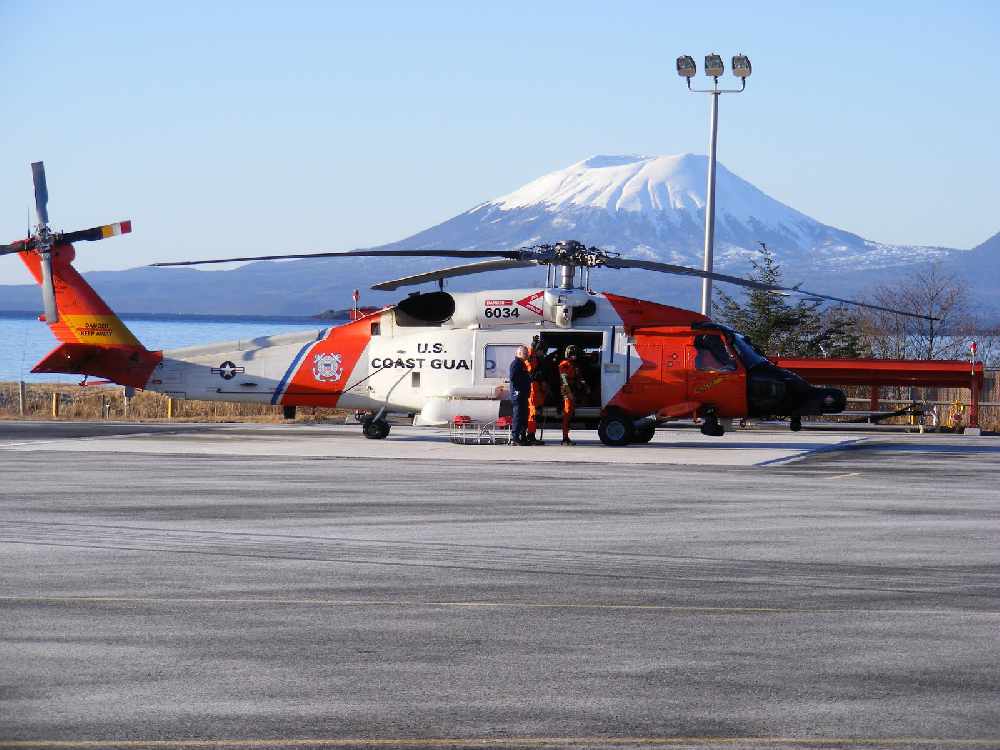 Photo courtesy of Coast Guard Alaska
Juneau, Alaska (KINY) - The US Coast Guard, Juneau Mountain Rescue, and Alaska State Troopers combined forces to rescue two hikers Sunday near Lemon Creek.
A Coast Guard Air Station Sitka MH-60 Jayhawk helicopter aircrew medevaced two elderly men from Lemon Creek Glacier, Sunday.
The aircrew hoisted both men and two Juneau Mountain Rescue personnel from the Glacier.
Both men were transported to awaiting emergency medical services for further care at Bartlett Hospital. They were reported to have been fatigued but had no reported injuries.
Sector Juneau command center watchstanders received notification from Alaska State Troopers of two hikers requiring medical evacuation.
Juneau Mountain Rescue personnel spent the day searching for the men and located them but were unable to bring them back down due to rugged terrain. Sector Juneau directed the launch of an Air Station Sitka helicopter aircrew to assist.
"This case highlighted the great working relationship between the Coast Guard and Juneau Mountain Rescue," said Lt. Kellen Browne, a pilot on the case. "Preparation on the part of the survivors with the proper communication equipment was key to the successful rescue of the two hikers."
Weather on scene was 10 mph winds, 10 miles visibility and an air temperature of 50 degrees.
Alaska State Troopers identified the hikers as Kirk Miller, 67, and Bohdan Petryszak, 69, both of New York. They had been scheduled to return by June 15 at 6 pm. Juneau Mountain Rescue was deployed just after 8 am Sunday with the use of a commercial helicopter based out of Juneau.
The hikers were located inside a deep ravine with hazardous terrain. The terrain was too hazardous for searchers to attempt a rescue so the hoist was deployed.
One hiker sustained minor injury and was treated at Bartlett Regional Hospital.